I write this earlyish on a Sunday morning (11, that's early for a Sunday, right?),  thinking of where to meet my friends for brunch and hoping that my 10 month old will be agreeable to whatever restaurant is chosen.  By agreeable I mean willing to sit through a meal without throwing utensils, screaming just to experiment with his lungs, or ripping his clothes off.  So… what to wear for on a cold, sluggish weekend morning in New York?  Jeans, sweatshirt, and ballet flats, darling.  The combo that never loses.
Lately I'm living in my Vintage Havana off the shoulder sweat shirt.  It's soft, light-weight (won't make you look bulky and weird under a coat), and is surprisingly chic for a sweatshirt.  Available in stores and online from Bloomingdales for $54.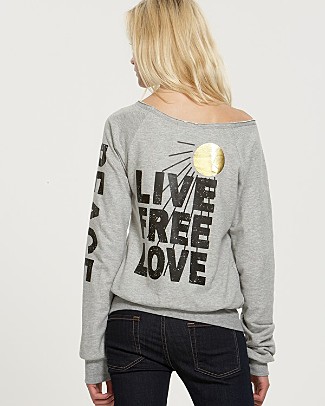 And comfy ballet slippers?  Well, if you're already shopping for the Vintage Havana sweatshirt at Bloomie's, you should probably just invest in a pair of buttery soft leather flats by Bloch.  At $125, they're a little pricier than the sweatshirt, but you'll be strutting all over town in these classics.