Imaginary Mothers, a documentary project by Jacqueline Arias about adoptions from Costa Rica, is having a fundraiser this Friday evening at Littlefield in Brooklyn.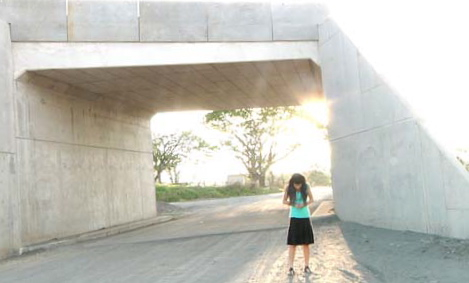 "I have three fingers… but one of them is missing…"
littlefield: performance + art space
7pm – 11pm
622 Degraw St.
Gowanus / Brooklyn (M/R to Union)
Live Music!
She Keeps Bees
This Frontier Needs Heroes
Natureboy
Suggested Donation: $12-$20
$20 automatically enters you in a raffle for a week stay in Costa Rica!
I had a chance to catch up with Jacqueline this afternoon, to talk about the project. Having been adopted from Costa Rica when she was four, and relocated to Ohio, she found herself always a little out of place. About ten years ago, she hired a private investigator, within two weeks he had found her mother, still living in her hometown of Alajuela.
Finally scraping together the funds, Jacqueline went to meet her mother in 2005. Besides the understandable awkwardness of finally meeting your birth-mother after decades of separation, there were other challenges as well: growing up in Ohio, she'd had no need to learn Spanish. But her mother's joy at seeing her daughter again eclipsed these initial difficulties.
Much to her surprise, one of the first things her mother said to her was that Jacqueline had been stolen from her.
When Jacqueline and her siblings were little, their mother had put them in a foster program while she was destitute. She would visit regularly, bringing fruit and flowers to her three children. One day, however, she came to the foster home and found her children gone. She was told that, since the last time that she had visited them, a judge had pronounced the children abandoned, and authorized an international adoption. The three were taken to Ohio, and Jacqueline's mother was given no more information.
Jacqueline studied Visual Arts at Parsons, and when the process of reuniting with her Costa Rican family began, she was quick to document the process. By the time she went and visited her mother in 2005, the rough outlines of a experimental documentary, along the lines of Ross McElwee piece, was coming into view.
During her repeated trips to visit her family, as well as extended research here, Jacqueline began to discover the networks of adoption rights advocates both here and in Costa Rica, as well as being exposed to numerous other stories of abusive or exploitative adoptions similar to her own. In particular, she felt that it was the birth-mothers who had the fewest opportunities to speak. And so "Imaginary Mothers" was born.
Last fall, Jacqueline organized an extended trip to the country. One of her first stops was an appearance on a local TV morning show, where she talked about the project, and advertised a number for people to call to talk about their adoption experiences. Over the next few weeks, she was overwhelmed by the number of women who called, wanting to share their stories with her.
The new two months were spent interviewing the women, as well as allowing the documentary to unfold in unexpected directions. The still above is from a reenactment of a dream of one of the interviewees. In the dream, she found herself under a bridge, repeating over and over again, "I have three fingers, I have three fingers, I have three fingers but one of them is gone." Like Jacqueline's mother, one of the interviewee's three children had been taken from her.
Right now, the project is in its post-production stages. Jacqueline hopes to be able to debut it this fall.
So come out Friday night and support a wonderful project. Also, if you donate the full $20 at the door, you will be entered in a raffle to win a week's stay at this place…