Just look at this photo, will ya?
A lot of airplane food options are inappropriate based solely on the merit of their flavors, but some airplane food varieties manage to go above and beyond. Take this vegetarian dish, for example.
A Qantas business class passenger flying from Sydney to Brisbane got a nearly mile high club-worthy meal when she was served her snack of six dumplings and something that looks just like an exotic penis. The passenger was so, er, moved by her meal that for the first time in her own personal recorded history, she took a photo of her food.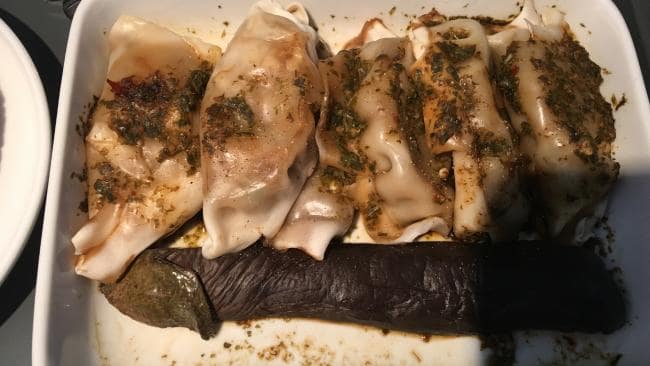 "I asked the server what it was … and he told me that it was a root vegetable," she told news.com.au. "I asked him to pass me my phone so I could take a photo … I never take photos of food but this was too funny to pass up."
She dumplings, she said, were "delicious," but the phallic food was the butt of what seemed like endless jokes on board. Would you like a stiff drink with that? Is that food, or in-flight entertainment?
You'll be happy to know that with some intense detective work, it's been revealed that this meal was actually one of dumplings and eggplant. Phew.
Love this article? For more beauty, style, travel, and trending topics check out The Luxury Spot on Facebook. Like us and we'll love you back!