About a month ago Ashley and I had a weird moment in fashion history… we decided that we were going to single-handedly try to to make Dress Barn cool. Why? A lot of reasons. We like a challenge, first, and we're absolutely convinced that it's a woman's sense of personal style and confidence that makes or breaks any ensemble. We headed to a NYC Dress Barn to try to get some hot dresses for under $100 (which is a challenge anywhere, nevermind a place with "barn" right in the name). By the time we got there, we were all shocked to find that our stylist had pulled not one, two, or three awesome dresses… but about 20. Dress Barn, much to our shock and awe a la George Bush, apparently stocks some pretty cute stuff.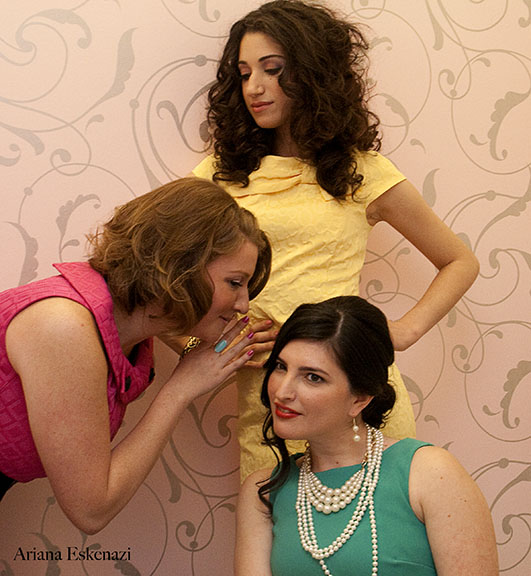 We were joined by our friend Taryn (the cute little one in the pearls and green dress), because we figured if we could dress 3 totally different body types in one store, on a mega budget, it'd be a feat that would probably prove either the existence of God or the fact that Dress Barn isn't as frumpy as we all originally thought. Or both.
Ashley, as you may already know, is the bustiest gal in town. She's working with a set of far-down-the-alphabet-power boobs that are typically hard to squeeze into trendy dresses. Taryn is petite, so finding clothes that fit her can't-reach-high-shelves frame is often a challenge. I'm often too tall to find dresses that are flattering to my figure, especially since I'm a more hips than boobs and usually use my big hair to balance the whole look out. We went into this knowing that we'd be photographed in the Dress Barn fitting room, and that the photos would not be touched up. This is the real us. By the way, mega thanks to the Paul Labrecque team for making our hair and makeup so oh-la-la.
Ashley found a hot pink retro dress that hugged her curves in all the right places. Somehow, to our near-disbelief, the dress was under $40. Our stylist topped it off with a faux-leather black belt for $12.99 bringing the whole entire outfit to an almost-silly total of $52.98. I've paid more for belts alone on clearance racks at Saks.
Taryn got jazzed up in a green dress that would be perfect for the office, a friend's engagement party, or some type of "so he wants me to meet his parents" rendezvous. She layered a ton of faux pearls, which would be totally fun with jeans and a cropped leather jacket, too, and wore a pair of her own super glam heels. Each necklace set was only about $15, and the dress was $29.99. If you ask me, a dress for $30 is totally worth bringing to your favorite tailor for $15 or $20 in alterations for the best-fitting dress of your life… and still under $50. It should be noted that Taryn works a pretty intense job in finance. She's a smart cookie, making serious moves and said she would totally rock this look to a meeting- this from a girl that's more often found rocking Loubs to the deli.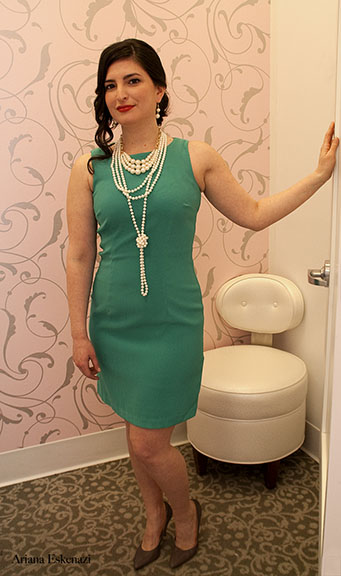 I found two distinctly different looks- a yellow dress that sort of screamed out "I'm a vintage glam kinda gal, I'll see you at the country club!" and a black powersuit that more seductively called out "I'm not wearing any panties." The yellow dress (seen above) is appropriately called The Little Miss Sunshine dress and retailed for $49.99. LIKE. The powersuit, which has now become my facebook profile photo, retails for about $110 total. Um, have you ever heard of an entire powersuit with the magical powers to seduce local onlookers for $110? No. No one has. Surreal. Side note: it probably didn't hurt that I really had no undergarments on.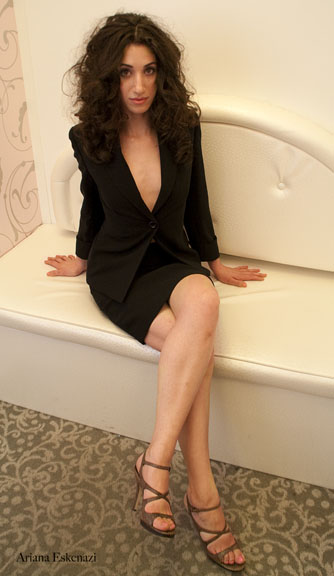 It should be known that Dress Barn is still the kind of place that you're going to mostly of work-time essentials like simple dresses, holiday wear, and the kinds of things that you know your parents would be proud of you for wearing. We especially love it as a go-to for affordable accessories like this statement necklace for under $40:
These painted glass bead bracelets are fun to wear solo or stacked for under $15 a piece: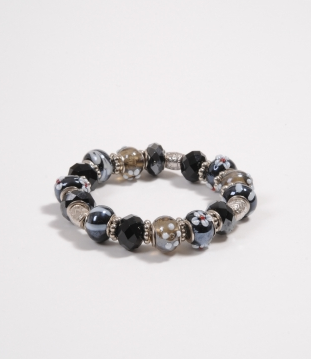 Want some free Dress Barn stuff now that you've seen how to style it? We're giving away 10 $25 gift cards to our loyal readers! To qualify to enter:
Click the Facebook "like" button at the top of this post
Leave a comment here stating what you would use your gift certificate for from Dress Barn.

Tweet this: "I want to win vintage glam fashions from @dressbarn & @luxuryspot http://bit.ly/gfN8yC"
Credits:
Styling by Jenn Eisner
Photography by Ariana Eskenazi