Packing for a weekend getaway can often be harder than packing for a month long rendezvous – you feel ridiculous bringing more than a small weekender bag, but no well-maintained woman can really manage without outfits and toiletries for every possible contingency plan. So what's a girl to do? Well, after scouring the market, here is pared-down selection of products perfect for any weekend trip. Whether by car, train, or plane, every product on this list will take up minimal room in your bag (leaving ample space for the six pairs of shoes you'll want to pack) and all can go in your carry-on luggage (nothing over 4 ounces here).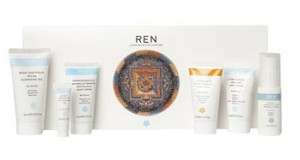 For Your Face: R for all skin types contains 6 travel-sized products for spa-like skin, even on the road. With Rosa Centifolia Facial Cleansing Gel, Vita-Mineral Radiant Day Cream, Frankincense & Boswellia Repair Cream, Omega-3 Overnight Lipid Renewal Serum, Glycolactic Skin Renewal Peel Mask, and Active 7 Radiant Eye Gel, you will be sure to have a clean, clear complexion, no matter where your trip takes you (even camping). ($45, )

For SPF: While clear skin is a must, preventing future wrinkles is also paramount. Check out Dr. Brandt's new UV SPF 30 High Protection Face, for a lightweight and oil-free sunscreen formulated with new dry-touch technology to leave your skin smooth, not shiny. ($35, DrBrandtSkincare.com)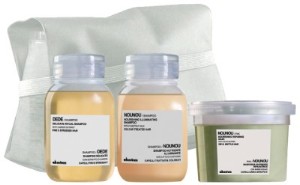 For Your Hair: Instead of suffering the effects of hotel freebies, or trying to find a way to pack your mega-sized hair care products in your bag, take along a Davines Essential Weekend Kit. With 4 kits targeting different hair conditions (each containing 2 to 3 products), you can forget about throwing your hair to the wind and embrace your lovely locks. ($16.50 to $26, depending on the kit, Davines.com)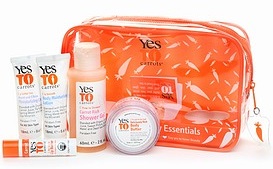 For Your Body: While many of us cram our face-care products into our bags, we often fail to prioritize our body care products. Yes To Carrots Travel with C Body Essentials, however, makes it super easy to care of our bodies no matter where they may be. In an easy-to-pack plastic bag (with plenty of room to throw in a few other essentials), the kit contains a Shower Gel, Body Butter, Moisturizing Lotion, Hand and Elbow Moisturizing Cream, and Smile Lip Butter. ($9.99, )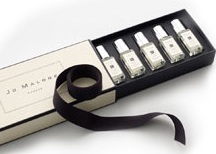 For Fragrance: If traveling by plane, solid-scents are usually the best way to go and with Soap & Paper Factory's hand-poured portable perfumes, you can't go wrong. Available in Rosewood, Verbena, Orange Blossom, Green Tea, and Fig these won't count as part of your TSA regulated liquid allowance – and they smell amazing. ($18 each, SoapandPaperFactory.com) If, on the other hand, you have some space to spare in the zip-lock bag of liquids allowed onboard, or if you aren't traveling by plane, Jo Malone's The Cologne Collection is, by far, the most-luxurious way to travel. Containing 6 mini (1 oz.) glass bottles with spray pumps, you can wear the scents alone or layered (it even comes with a little chart telling you which scents work best together for a flawless, personalized, fragrance). ($95, JoMalone.com)
Happy, Pampered, and Beautiful Travels!