Prada has just released their Resort 2014 campaign video. It's a tale of a mysterious dark beauty who reclines in this chair. I'm unclear if she's camping. Obviously, when I go camping, I bring all the Prada with me. Ha! I don't camp.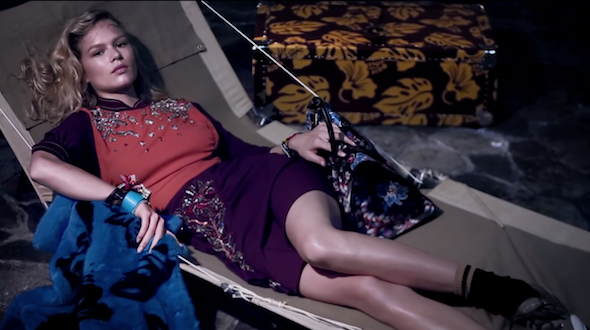 Personally, I'm really not sure why Amanda Murphy, Cameron Russell and Anna Ewers are rolling around on a chair like they took some molly. Also, they seem to be sweating. The girls are kind of just slowly tossing and turning in this chair as they glide their hands over their bags, furs and jewels. It's like a love affair and I love an affair. The resort campaign, is more of the matrix meets Versailles but I don't see any cake.
The brand describes the story of a power of femininity and strength. Honestly, when I see a woman sweating in a chair with thousands of dollars worth of clothes on, power doesn't really come to mine. Throughout the whole video, I kept playing the escort or cousin game. However, Steven Meisel does a beautiful job with the video and I can't really hate on high fashion. I've always been a bottom obsessed with Prada since my birth. Rumor has it, my mother tried to wrap me in a blanket and I screamed until she cuddled me in her Prada coat.