There is nothing more adorable than a sleeping puppy. Watching a puppy nap is bound to get your heart melting, if the puppy eyes don't get you first. Um, hello, this newborn puppy photography will melt any ice-cold heart.
OMG puppy naps!
One doggy day care in South Korea has began taking cute pictures of puppy naps, and we're living for them. The Puppy Spring facility is located in Gyeonggi-do, South Korea, and admits puppies over 12 weeks old.

Facilities like Puppy Spring are a godsend for doggy parents who are too busy working during the day. The demand for these centers is rising, and Puppy Spring is always packed.
A spokesperson of the doggy day care stated, "There are reservations for 30 dogs each day."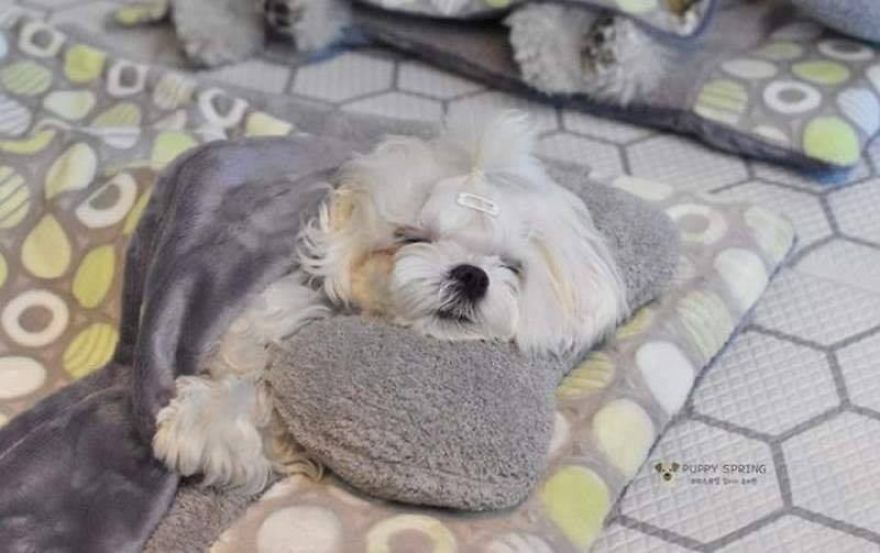 The facility is not limited to taking care of fur babies alone. "We also operate as a play center where children can come in to relax," the spokesperson added. Hello, add this to your list of pug gifts and other musts for adorably cute good boys.
The facility has a training program aimed at helping the puppies improve their sociability and obedience. These games and exercises deplete their energy reserves, and puppy naps are scheduled to help them recharge.
"We get the pups napping from 2 PM to 3:30 PM. The cost of our services varies and depends on a few different factors, including the time dogs spend at the facility."
How can we sign up to snuggle the pups though?
Nap time is also meant to give the employees a chance to rest. However, they almost always get mesmerized by the sight in front of them and decide to take pictures instead.
Lucky for us, because we also get countless puppy naps pictures to keep our hearts warmed up and ready for anything. Here are a few more to keep the smiles coming so your day can be nothing short of squishy good.
As people gushed at how adorable the pups were, many couldn't stop wondering how the employees got all of them to sleep at the same time — and we all know it's an incredible feat. We're just excited to see if the staff will end up wearing these super cute dog and human matching outfits sometime soon.



Love this article? For more beauty, style, travel, and trending topics check out The Luxury Spot on Facebook. Like us and we'll love you back!