Rose gold eye makeup for life. Holler if you hear us.
Who would have thought a few years ago that the pinky copper shade would still be so popular? We can't deny though, rose gold eye makeup is a real winner. Why? It looks fabulous on every eye color, promise. We're going for that extra glittery look using a gorgeous pigment that shifts from rose to gold.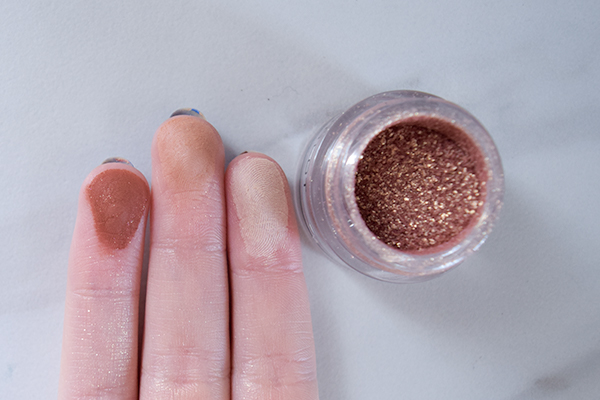 Follow along for the shades we're using in this rose gold eye makeup look.
Obviously the whole thing is anchored around rose gold glitter. How could it not be? We're obsessed with Inglot Cosmetics Pure Pigment Eyeshadow in number 123. Besides that you'll need a few mattes: a highlight shade, a medium warm brown transition shade, and a darker warm brown for definition. These warm brown tones play off the rose gold to make sure it looks fresh! You could make the look more pink by opting for mauve shades.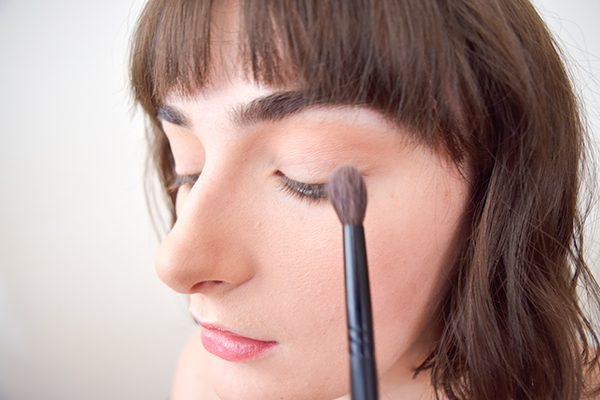 Blending is so much easier when you start with a transition color. We're heading in with our favorite big eyeshadow blending brush, the Sephora Collection Pro Tapered Crease Brush. Apply your transition eyeshadow through your crease blending up and down and side to side to get a subtle wash of color.
Next darken up that crease. We're using the darker warm brown color to deepen the crease with a thinner, Sigma E38 Diffused Crease Brush. You'll want a nice light layer just too add more depth to your crease without it becoming a cut crease look.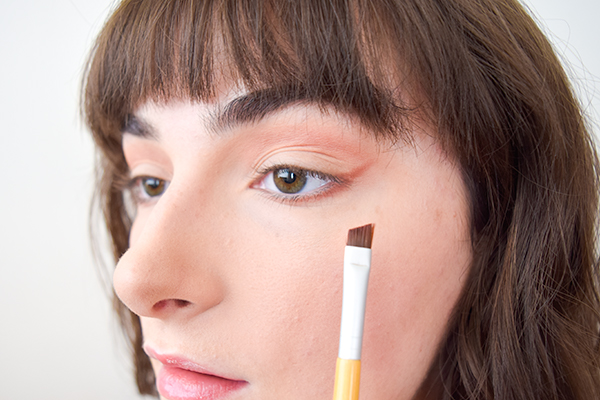 To get the final shape of the eyes penciled in, we're applying that same warm brown to the lower lash line and extending upwards. This will give you a flawless winged eyeshadow look, no taped in lines necessary. Pull that shadow all the way up till it meets with your crease.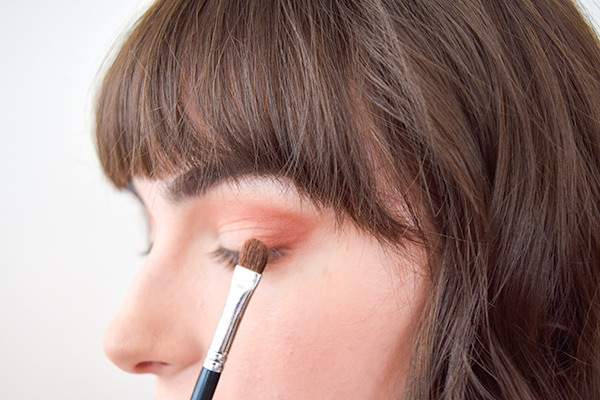 Now we're going to put that wing to good use! Taking your darker warm brown again, fill in the space between the wing and your crease, just on the outer third of your lid. The goal is to darken this area and fade it into the inner two thirds of the eye. It helps emphasize the cat eye look, and lets the inner part of your eye shine later.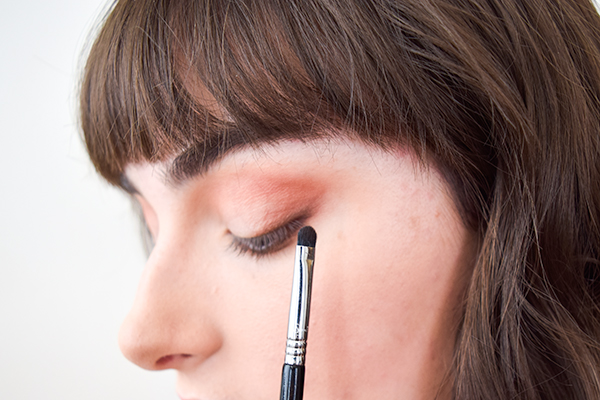 This step is totally optional, but if you want a more sultry look, deepen your outer corner lash line with a little bit of black eyeshadow. you'll only want to use a very small amount so it doesn't take over the whole eye. Not cute, trust.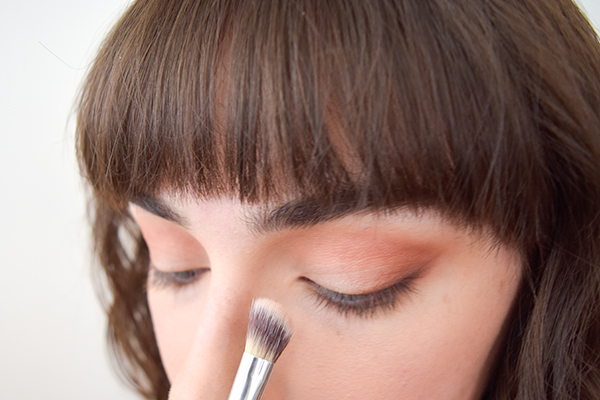 Last thing before we head in to make this a rose gold eye makeup masterpiece is highlighting. We're using a matte shade here to keep things focused on the rose gold eye makeup look. Apply your highlight shade to the inner corner and under your brow.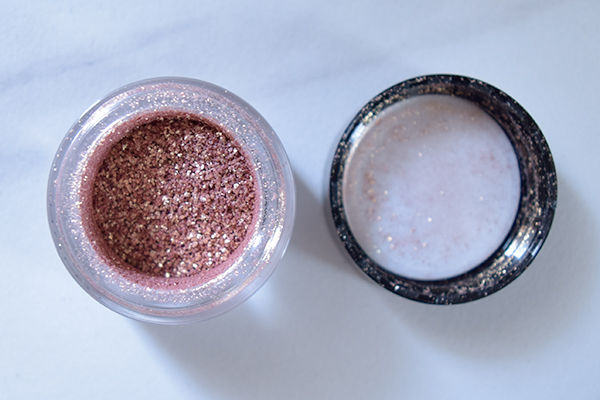 Oh yeah, it's time for glitter. This is that Inglot pigment we were chatting about for a hot second before the tutorial.
It looks like a pretty dusky pink in the pot, but when the light hits it just right you get a gorgeous golden shine. You'll get a rose gold and gold look all in one!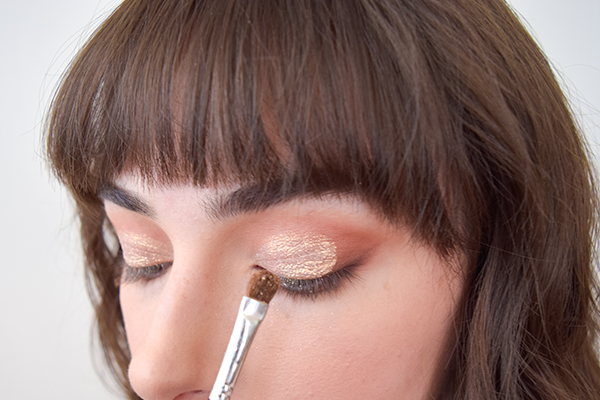 To make sure this shimmering pigment stays on your lid, it's helpful to apply it wet first because it holds the pigment together. Simply dampen a small eyeshadow brush with clean water and pick up some of the pigment. We like to just mix together on the back of the hand for a quick makeup palette.
Apply the dampened pigment over the inner third of the eye that we left alone earlier. It doesn't need to look super perfect at this point, so don't worry about blending.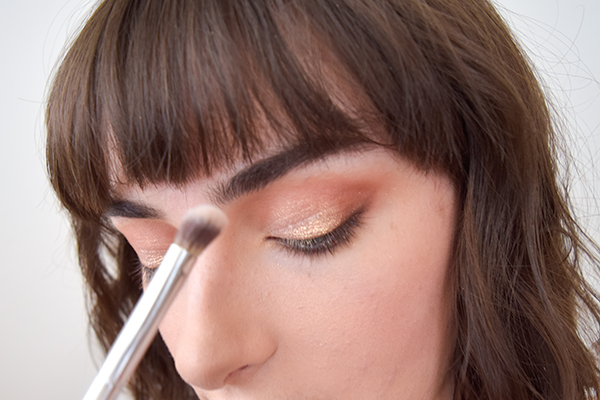 You'll want the pigment to dry and set on your eye before blending out those edges. You can also top with a little more of the pigment to get that glittery look.
Finish off with a few good coats of mascara or false eyelashes if you're feeling it. The entire look is especially crisp and modern with a dose of DIY matte eyeliner, too.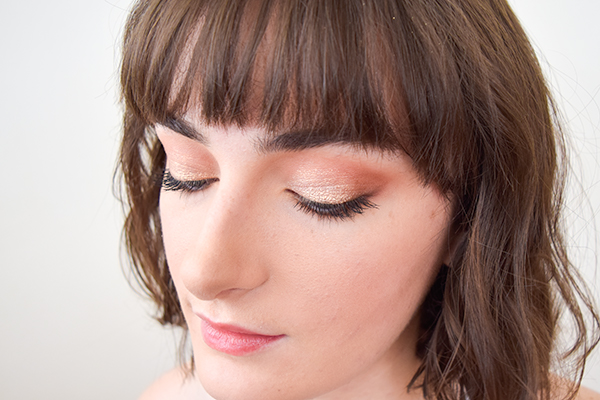 We love how this overall effect is blended and subtle, but still so glittery! The added bonus of light-shifting rose gold pigment is just the icing on the cake (might we suggest pairing this look with not-so-subtle glitter eyebrows?).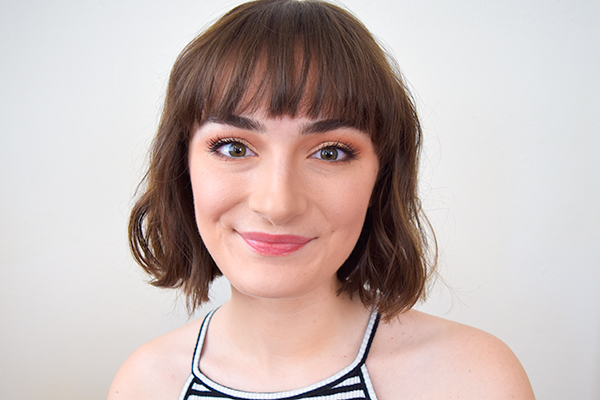 Love this article? For more beauty, style, travel, and trending topics check out The Luxury Spot on Facebook. Like us and we'll love you back!