Unwritten rules of Burning Man: revealed.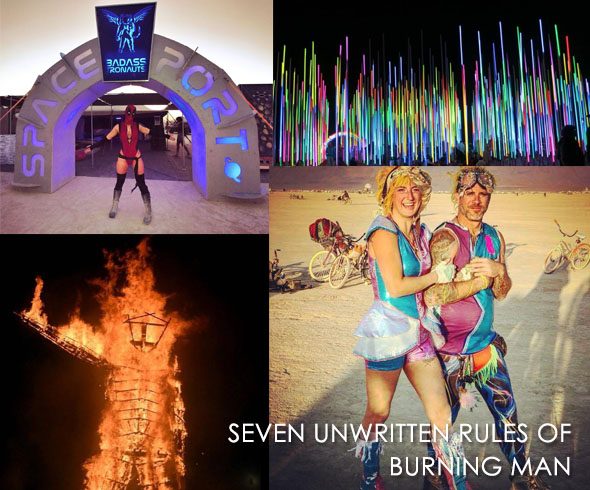 To be honest, I was always one of those people who thought that Burning Man was played out and commercialized. I thought it was just another festival where people ran around wearing crazy outfits, drugged up and dehydrated in the desert. So like a gay circuit party, but filled with dusty straight people.
Recently however, I moved to Denver and immediately fell in with a group of people who attend 'The Burn' every year. They call themselves the Bad Asstronauts, and they opened my eyes to what Burning Man is all about.
The first thing you should know is, Burning Man is about community and family. You can tell because (much like the Mardis Gras krewes in New Orleans) Burning Man is made up of groups of like-minded friends who spend months in preparation, creating fashion and art together, and then spend a week or more celebrating their connection in the desert. The Bad Astronauts are just one of those families (there is also a gay one called the Glamcocks, in case you are fan of wordplay and penis jokes).
READ MORE: The Burning Man Erection Contests
So the first thing I learned about Burning Man is the most important. It is comprised of self-made families that support each other in a very non-judgmental way. It is also about art, music, fashion, and healing. I know that may not make any sense to a lot of people, but that is why I put together these 7 Unwritten Rules of Burning Man. So maybe if you are on the fence about going, you will decide to jump in balls-deep and give it a try. And maybe if you're a judgey little bitch about it (like I was), you will understand that its really just a mass of open-minded people coming together and expressing themselves outside the bounds of our societal norms.
No judgments
In my mind, learning not to judge is a huge part of becoming a happy, well-rounded, non-asshole of a human being. No matter who we are, we could always stand to put energy into not judging others, and letting other people be who or what they are without the weight of our meaningless opinions. No judgments may be the biggest and most important unwritten rule of Burning Man, because you will see a lot of crazy shit out their on the playa (in this instance the playa is a dusty desert landscape covered in tons of interactive art installations). Your instinct might be to judge it all from the perspective of your everyday life (because you will see things that are definitely out of the norm). It's important to remember that Burning Man isn't every day life though, and one of the main reasons people go to Burning Man is to express themselves freely without judgment. So leave your judgments and expectations at the door regarding Burning Man. It's a place where you can free yourself from all of that.
Dress to impress
One of the best parts of Burning Man is planning out all the artsy, psychedelic, random-ass outfits you wear while exploring the playa. There are no rules to what you can wear, but the goal is to express yourself with wearable art.
Vesper, a Burning Man veteran realized this on her first day at Burning Man in 2014, when she woke up and thought: " 'I can be whatever I want to be in this place.' So I decided to be a superhero. I put on a mask and gloves and colorful undies, and went off in search of adventure. Superhero Monday has been my personal tradition ever since. Every year is a different superhero. It puts me in a mighty mindset. It empowers me, and helps boost my self-esteem."
She dressed up like a gender-bent Deadpool this year, and in my opinion, slayed the competition. She says that she dresses to impress mostly remind herself that she can be confident and strong no matter what she is wearing, since judgment is at a minimum.
"You feel safe to try on any number of outfits and personalities, and (as long as you are not infringing on anyone else's autonomy), you won't be judged for it. You are encouraged to push your boundaries. You can try out all these different personas, like an identity buffet. It's a practice ground for the real world."
The importance of music
Obviously one of the biggest draws to Burning Man is the music, as it is considered a festival. I only knew a few people when I moved to Denver and one of them was a finance guy/DJ from New York named Dugan. He is the one who introduced me to the Bad Asstronauts, and his story of moving to Colorado from New York and pursuing his music dreams is pretty inspiring. He had this to say about the importance of music at Burning Man:
"Music at Burning Man to first-timers (aka "virgins") is often viewed as an attraction in and of itself, but as you discover all the ways that you can participate beyond listening and expand your acoustic horizons, you realize that music is just part of a greater experience. That's what makes it so special out on the playa. While you may have some of the best music in the world with the most incredible production, even as a DJ myself I consider music to be a soundtrack to my burn rather than a focus."
So music is important to Burning Man the same way a soundtrack is important to a movie. Except in this movie you are half naked, dancing in the desert until the sun comes up, surrounded by art.
The importance of art
Art is at the epicenter of everything Burning Man stands for. When you really break it down, Burning Man is nothing more than a shit-ton of open art installations in the middle of the desert, where people can wander around for days interacting with beautiful, thought-provoking life-size artworks. Creation is the most important part, whether you are creating little necklaces to give away (they call them playa gifts), or a full-sized rocketship (the Bad Asstronauts contribution this year).
I recently met two burners named Brandon and Nate, who create a lot of the fashion you see at Burning Man through their company Pulse of Prophets. They seek out visual artists from around the world and dip-dye their clothes to create wearable art. They also donate a percentage to local Colorado charities, because giving is not only a big part of Burning Man, but something everyone should do a little more of, if you ask me.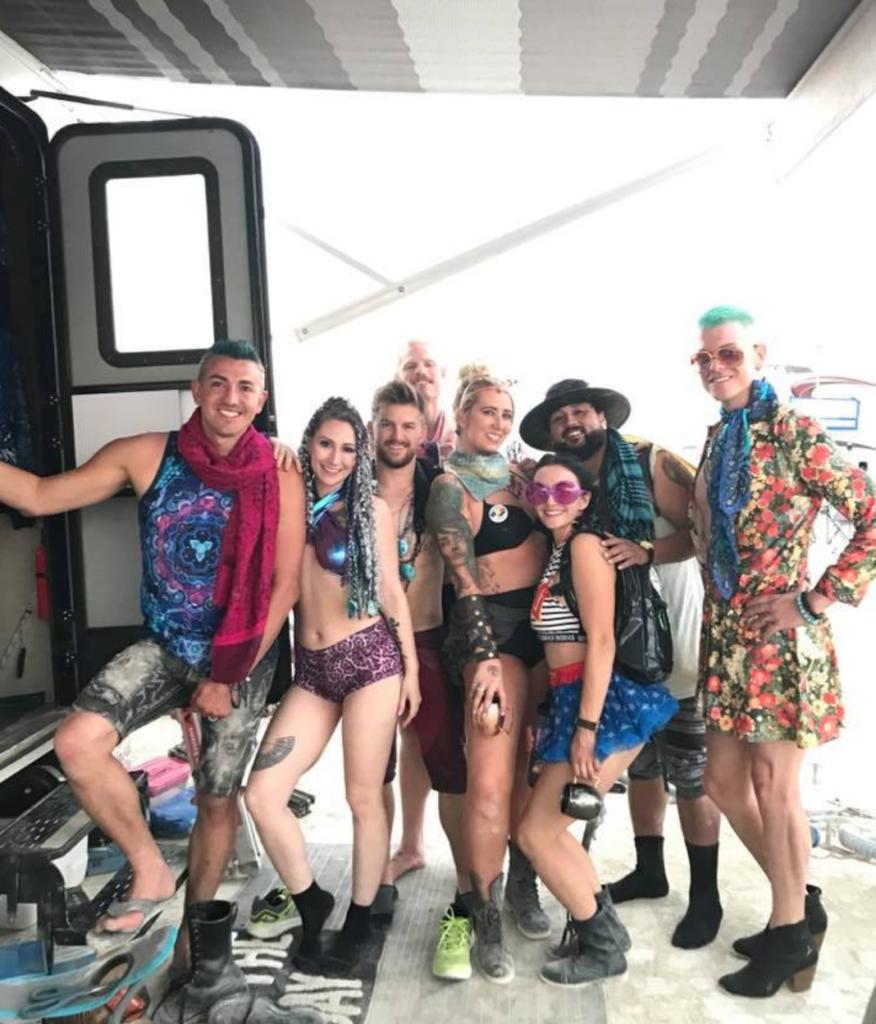 Find your tribe
I've recently come to realize how important it is to find your tribe, when I visited New Orleans for Southern Decadence and saw all the krewes, dressed up and celebrating for the sake of the gays. It was beautiful seeing these 'chosen families' coming together as a larger community for one purpose. Burning Man lends itself to this, because these groups like the Bad Asstronauts and Glamcocks spend a lot of time together outside the burn, and weeks or months in preparation, creating outfits, sewing, crafting, and building large-scale artworks as a contribution to the Playa. Burning Man is really about these 'chosen families' coming together and creating something larger than them-selves. So in regards to Burning Man, finding your tribe really just means finding like-minded people, forming a family, and creating together.
And partying together, obviously.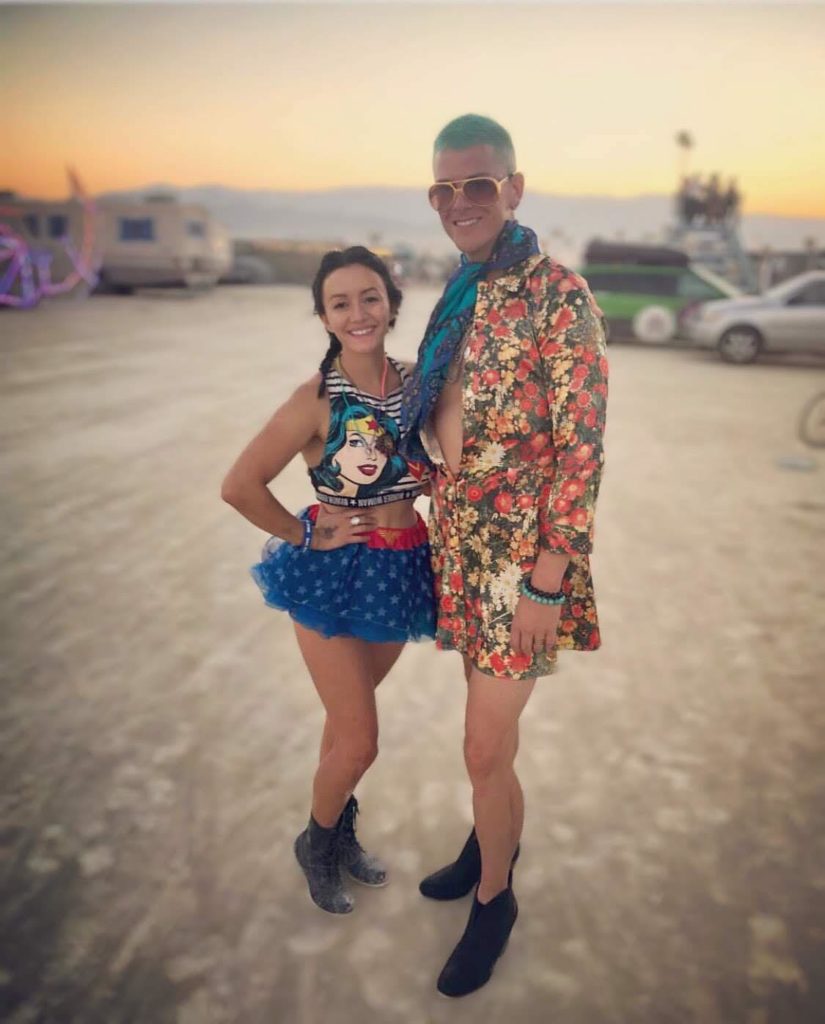 Practice radical self-expression
Whether we are talking about fashion, art, music, or dance, Burning Man is all about radical self-expression. Many people who come to Burning Man leave a transformed person. Seeing people all around you who aren't afraid to be whatever the fuck they want to be, is freeing. It gives you the permission to be whoever you may want to be, on any given day. One Bad Asstronaut named Nicoli shared with me that he was a completely different person, living a buttoned-up gay professional lifestyle, until he went to Burning Man and realized his real life felt like a part he was playing. The radical self-expression he felt at Burning Man felt more true to who he really was.
Being free with yourself is one of the mandatory, non-negotiable rules of Burning Man.
"Burning man is a place where you can discover previously unseen or undiscovered aspects of your personality. When you remove the fear of judgement, you begin to realize that your outfits can be a unique expression of your soul. One that can change every day, every hour, every 10 minutes if it feels right. Radical self expression is showing up as yourself, in your truest form, however you see yourself or what experience you want to create for others in that moment."
So basically, this means you should do whatever the fuck you want at Burning Man (short of infringing on others, harming others or yourself, or like, murdering people and stuff). If you can't do it there, where else can you do it?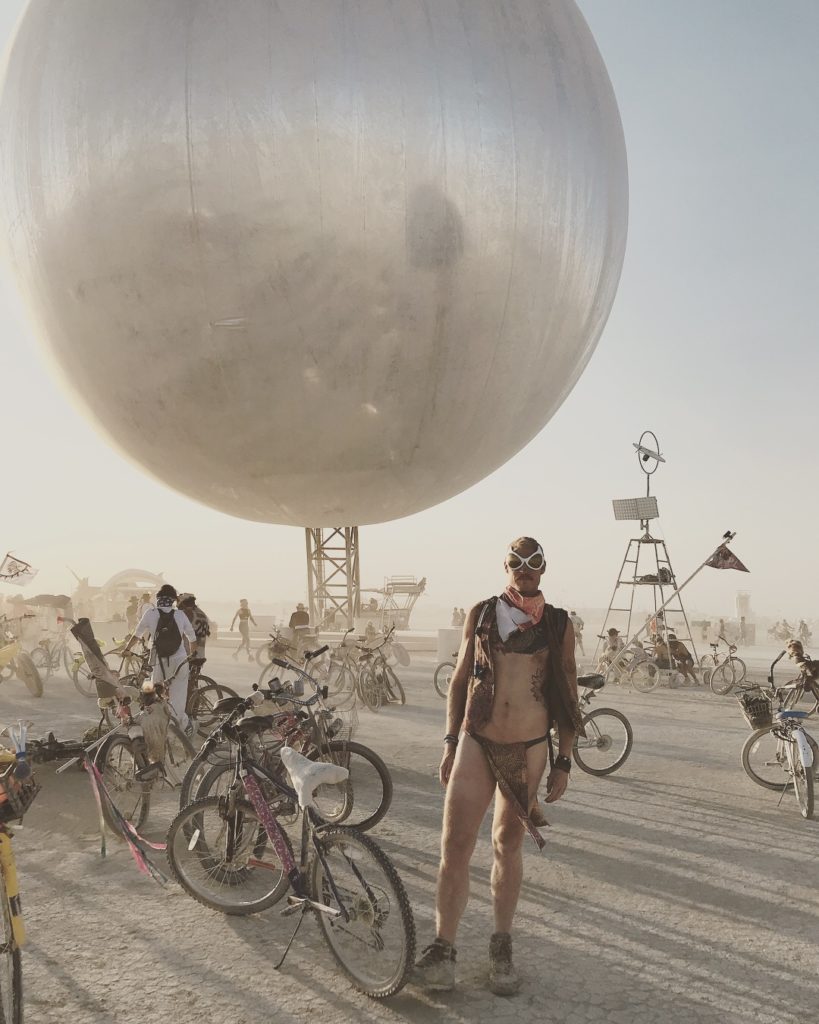 Embrace healing
If you have ever been to any desert, you know that the solitude of being able to see the horizon is really healing. If you throw in thousands of like-minded, non-judgmental people, it builds the perfect storm for a really cathartic experience. Healing is one of the most important rules of Burning Man. At Burning Man there is a huge wooden structure called the Temple, where people write letters or messages to themselves or loved ones. On the last day the wooden temple is burned along with all of the healing messages, which helps release that pain into the world and create a healing experience. Cody, a Bad Asstronaut who is getting over a long relationship used the experience as way to heal. He wrote a letter to his ex, and a letter to himself about what he wants for his future, and burned them both with the temple. He said, "Burning man helped me heal by setting the intention to release my past relationship and what once was, and let go of any expectations I had of myself and others in the past, present and future. Going in, I felt a bit broken and unsure of who I was. The act of burning those letters helped me get closure on the past, and move forward without being dragged down by judgments and expectations."
So there you have it. If you started this article thinking Burning Man was just a bunch of drugged-up dehydrated people dancing in the desert, hopefully you now know that it's actually a bunch of self-made families, coming together to support each other and express themselves through art, fashion, music, and dance, (and yes, some of them may be drugged-up, dehydrated, and dancing in the desert).
But at least now you know not to judge, right?
Love this article? For more beauty, style, travel, and trending topics check out The Luxury Spot on Facebook. Like us and we'll love you back!