In recent years there has been a lot of emphasis on superfruits like pomegranate, blueberries, and acai to help heal and restore us from within.  We've looked to these fruits to do everything from lower our blood pressure to actually improve the appearance and texture of our skin, hydrate our locks, and fight the signs of aging. So what do all these fruits have in common? Free radical-busting antioxidants that are potent in most berries, but especially so in sea buckthorn.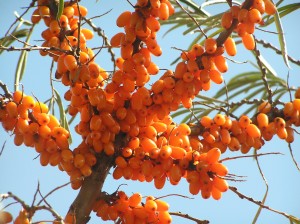 If you haven't already heard of sea buckthorn, don't worry, you're not alone. Most Americans don't know much about this powerful berry that is native to a region spanning northwestern Europe to China.  The Himalayas are reportedly the most popular sea buckthorn-producing region, however. Prepare to be surprised: sea buckthorn offers some of the most concentrated vitamin C on the planet, in addition to carotenoids, vitamin E, amino acids, minerals, and polyphenic acids. If you're an omega fatty acid addict like myself, you're in luck, this is a prime vegetarian source of Omega-7.
So what does this mean for your skin, hair and nails?  Good question.  To give you an idea, sea buckthorn was fed to the horses of prestigious business men in ancient Greece because it gave them a shiny coat like no other.  Horses, people, whatever- we all want a shiny coat.  I had an opportunity to try sea buckthorn berries in their raw, pure form and was blown away by how tart the puree was. Imagine a blender full of raw cranberries running down the back of your throat- sour, tart, acidic, and slightly sweet. Then imagine doing it every day for a week.  And then imagine the skin under your eyes de-puffing, your cheeks glowing, and that lingering sniffle finally being gone.  That's what happened to me.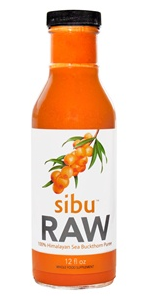 Although I was ecstatic with my sniffle being gone, I was beyond thrilled when I realized that I was actually putting less effort into my beauty routine and getting more out of it.  Peter McMullin, the VP of Marketing at Sibu, says, "the nutrients in sea buckthorn contribute to healthy skin, hair, and nails from the inside-out and outside-in."  I believe it. About an ounce of this beauty manna a day did more good for my skin than the multi-vitamin I've been taking for months.
Check out the raw sea buckthorn puree here.
Next up: figuring out sea buckthorn-friendly recipes (can we throw this stuff in some cupcakes?!).
Disclosure: All products were provided for review. No monetary compensation was received for this review. All opinions belong to the author.