Tired of silver and gold? The proverbial "pearl necklace" your boyfriend keeps trying to give you? Me too. That's why I was thrilled to try on Sumaris jewelry. Their bold, chunky pieces are less bauble and more contemporary art.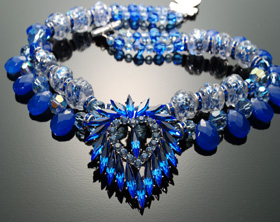 Created by Marion Corbin and Susan Littin, this authentic brand combines vintage with modern, semi-precious stones with handmade beads, broaches with lucite, and gold with silver. The result? A funky, unmistakably unique addition to your arsenal with enough vivacity to spice up any outfit.
Each piece is handcrafted, including the two that Bryce and I wore to TLS's launch party. While Bryce's bling was made of vintage and contemporary Czech glass beads, metal beads, and Swarovski crystal; mine was composed of strands of crystal and silver beads offset by a giant Austrian broach. It's a gorgeous piece; one that had me questioning whether one of our guests, who was talking to my chest, was blatantly staring at my rack (he wasn't). Most men are slightly more discrete when ogling, so I believed him when he said he was just admiring my stunning necklace. Then he told me gullible wasn't in the dictionary, and I had to walk away.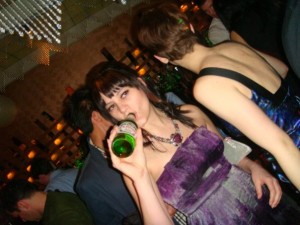 Starting at $275, there's a necklace for all occasions and budgets. Sumaris isn't another one of those gaudy costume brands; their pieces are elegant, flirty, and sure to draw even more attention to your chest. Isn't that what every girl wants?