In celebration of National Pasta Day, I created this un-pasta spaghetti squash bake dish to satisfy your every craving.
National Pasta Day is October 17, so I figured I'd whip up something super easy, healthy, and ironic (culinary hipster right here, people). My Baked Spaghetti Squash dish takes about 30 minutes all in, only about 10 minutes of prep, and is gluten-free, vegetarian, and ridiculously satisfying. Here's what you'll need:
About a pound of spaghetti squash already out of the gourd (this is super simple and I used this quick tutorial to get the job done)
1 large onion, narrowly sliced
1 medium yellow squash or zucchini
1 large portabello mushroom cut into chunks
1/2 red bell pepper, narrowly sliced
2 crushedcloves of garlic
1 jar of Ragu tomato sauce
1 cup ricotta cheese
1/2 cup shredded cheese of your choice (I used mozz to keep the theme)
salt and pepper to taste
fresh basil
Step 1: Add onions, bell pepper, mushroom to a shallow frying pan to soften over medium heat for 3-4 minutes (make sure your pan is well-oiled). Preheat your oven to 450 while you're at it.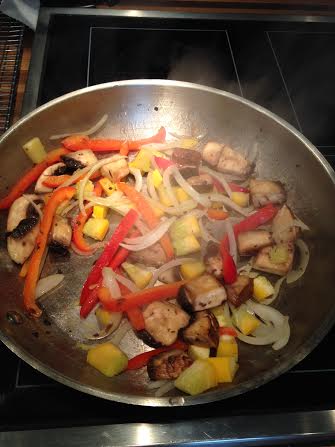 Step 2: When the veggies have browned lightly and gotten soft, add the crushed garlic. Don't let it burn- just get it warm enough to spread the garlic flavor amongst the other veggies in the pan.
Step 3: Add about 1/2 jar of Ragu. Mix, and let it sit on medium heat for 2-3 more minutes (allowing the sauce to heat up and the flavors to combine). And by "mix it" I mean mix it like you mean it.
Step 4: In a glass baking dish, add the spaghetti squash. Spread it out in the glass dish, and then add the sauce mixture. Don't mix the squash and sauce– layer the sauce on top of the squash.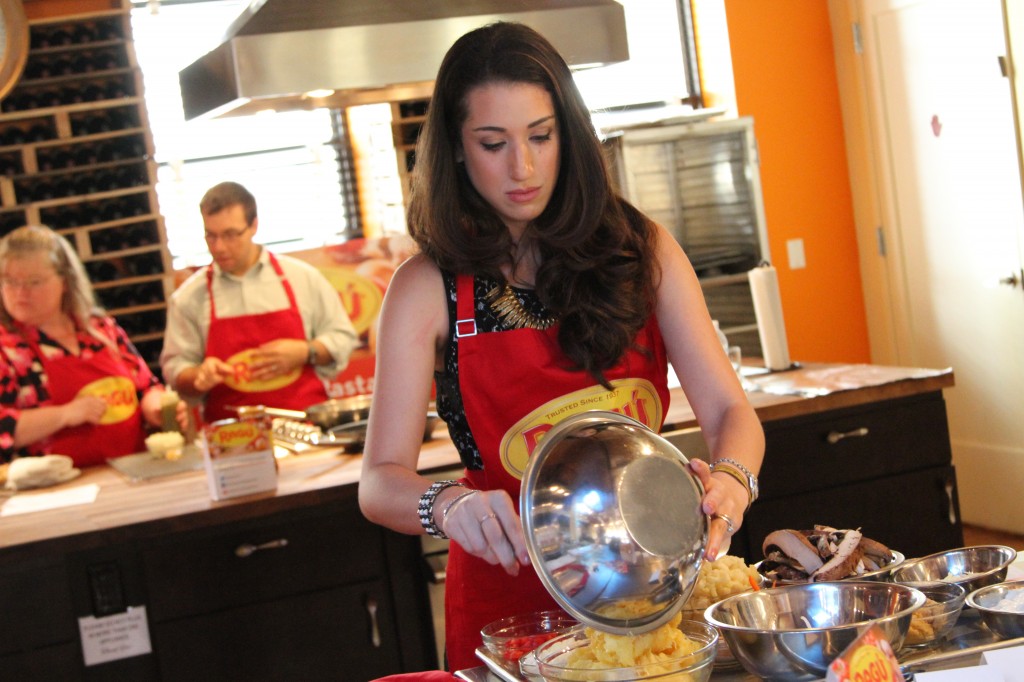 Step 5:  Add the ricotta on top of the sauce. Hooray! Now add more cheese, cover the top of it all with all the shredded cheese you have.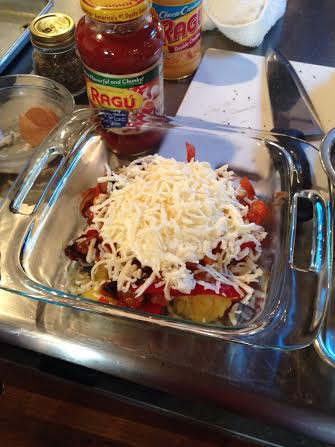 Step 6: Pop that bad boy in the oven for about 15 minutes so the cheese gets gooey in the middle and crispy on the top.
Step 7: Think of ways to lie to your friends and family about the un-pasta. Tell them it's "cut spaghetti" or a new, different variety. Play a game in your head about who you think will figure it out first.
Voila! Garnish the top with fresh basil and enjoy your healthy take on National Pasta Day <3