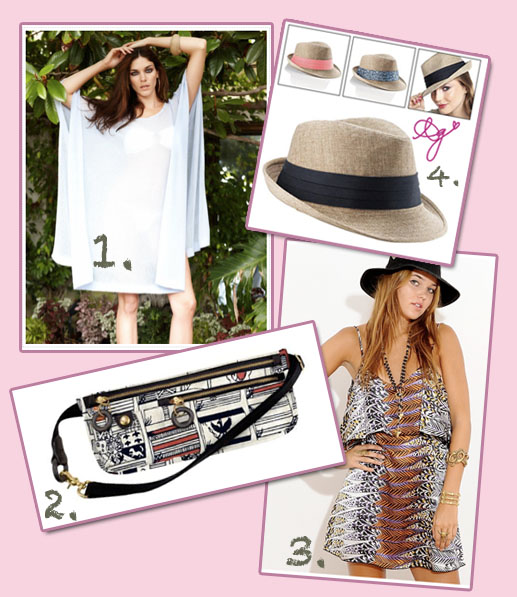 1. C.Z. Falconer Blaise 100% cashmere poncho [$470 czfalconer.com] An easy breezy coverup for a stroll on the beach.  Tip: belt it with a tube dress & extra baubles for a night out.
2. Julie Apple Wrapper in Regatta Print [$56 on sale for $48 endless.com] Made of recycled materials, organic hemp, and in some cases recycled sail materials, this handy carry-all is like a piece of history. But don't mistake this for any ol' wimpy fanny pack, leather reinforcements & solid brass buckles are sturdy for whatever your vacation brings you. Tip: rock it as a hipster crossbody by slinging the the 52″ adjustable strap long and loose.
3. mark Fierce Fedora [$16 meetmark.com] An on-trend, simple, classic fedora sturdy to stand up to any elements. You can rock it in the city for any time, or on the beach for extra sun protection & to cover up whatever your hair does when unkempt. WIN for everyone. Tip: it's like having 4 hats in 1! interchange the 3 colored straps, or wear bare to coordinate with your array of vacay looks.
4. Blu Moon Summer Luvin' Ruffle Dress in Tribal [$185 shopthetrendboutique.com] This boho dress shows a little of your vacay bronzed leg, made out of wearable, packable & machine washable rayon. A hot trend for the beach & beyond (we spotted Brittany Snow in this exact dress at Tyler Shields' "Life is Not a Fairytale" gallery on May 7th). Tip: pair it like Brittany, on a cool night, with black leather accessories to toughen it up.