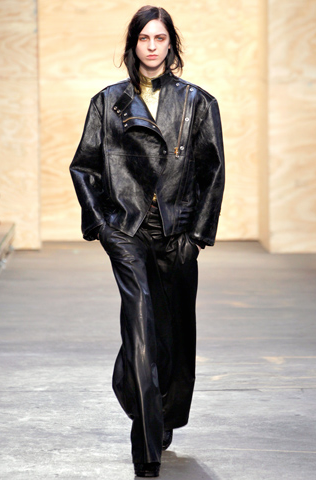 Time to let your eyes adjust from spring and summer's neons and pastels because this fall, black is the new black. A nouveau gothic look of sorts is just one of fall 2012's exciting trends – well, head-to-toe black is exciting for me, at least. Give me black leather pants in the middle of summer and I'm good to go.
Models at Proenza Schouler, Givenchy, and Mugler's fall shows were fully clad in black leather, while others showed severe hairstyles inspired by Girl With The Dragon Tattoo. Even Michael Kors had a gothic-chic moment on the runway. For now, I'm just going to enjoy the thought of this impending trend and ignore the fact that many of these designers also showed white-on-white ensembles. We will revisit that unfortunate trend at a later time when I am fully recovered from pastel.
Photo via style.com.