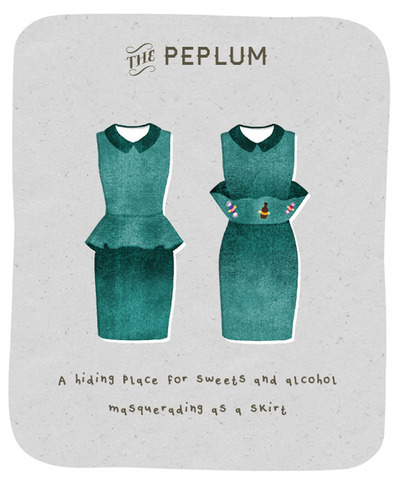 With the peplum trend in full swing, it is clear that this little fashion frill is capable of wreaking havoc on the term "flattering". Since the trend's debut, we've learned right from wrong in peplum world:
RIGHT:
Pair with a skinny leg jean or trousers. Caution: be mindful of pairing a peplum with a pencil skirt – I've seen many a fashion fail with this combo; however, when executed properly, the result is divine.
Choose your colors according to what you want to slim – a dark peplum top will slim your torso, while a lighter peplum top paired with darker bottoms will slim the hips/legs.
Get creative with accessories and styling that gives your peplum ensemble plenty of personal flair. You don't want to look like a cookie-cutter trend victim.
WRONG:
Wearing shoes that cut the leg line. Go for a traditional pump rather than a t-strap to elongate the leg, since the peplum already cuts the body line.
Foregoing trying on your new peplum piece. You have to make sure the frill hits you in the right place – peplums can look weird and ill-fitting if they fall too high.
Choosing clingy fabrics. These can be unforgiving if you're not Karlie Kloss, so aim for chiffons and other body-friendly textiles.
Image [via]