While this week has been downright dismal, there's no reason to put off the quest for the perfect summer products. I've found a couple grade-A products that accommodate travel, UV protection, and my meager budget.
Let's start with Skin Authority's GO! Gorgeous kit. The kit is a great intro to Skin Authority's products, and you're getting 4 quality products for the low price of $42. Plus, the products are sized for personal use, so they're easy to tote around from the gym to a weekend getaway. The products are scentless and light-weight, so they win big points from me and my already oily face. For day-time use, the GO! Gorgeous kit includes a Daily Cleanser and Sunscreen Moisturizer (SPF 30); perfect for removing dead skin (you have more than you realize) and protecting your remaining skin from the beastly sun we're sure to encounter this summer.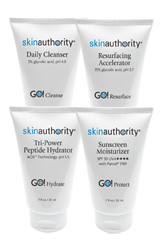 The kit ALSO includes a night-time regime, though– after using the Daily Cleanser, you can apply the Tri-Power Peptide Hydrator, which helps to hydrate and re-moisturize the skin while reducing the appearance of lines and wrinkles. Another night-time product included in the kit is the Resurfacing Accelarator, which improves rough, scarred, dry skin caused by aging, acne, or sun damage.
Once your skin is the jump-off, try out Sheer Cover Mineral Makeup. Mineral makeup has been all the rage for awhile– and for good reason. It doesn't clog the pores, making it ideal for use on sensitive skin; it doesn't carry bacteria; and it leaves a much lighter coverage than traditional makeup, which allows you to avoid being called "cakeface" behind your back. Sheer Cover also enhances their makeup by including added skin protection (SPF 15). It's no mystery why this line of makeup is perfect for summer. Their intro kit, also the perfect travel size, is 50% off right now ($29.99!!)Â and is inarguably worth it. Besides a set of brushes, concealer, foundation, cleanser, and moisturizer; this kit comes with BANGIN' mascara. Seriously. Best mascara I've used in awhile.

As far as hair care goes, I have a rule when it comes to the summer months: STOP STRAIGHTENING YOUR HAIR. The summer is a great time for your hair to recoup from heat damage caused by irons and blow dryers when you're using the right curly-hair products. Plus, you won't end up looking like this when humidity hits.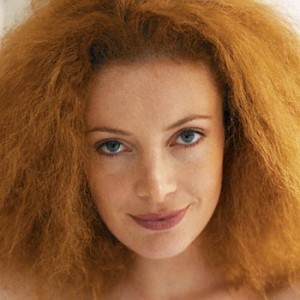 Sexy Hair has the answer. They've just relaunched their Curly Sexy Hair Collection with new and improved formulations. This line, which I've been using on the rainy days that have been plaguing us lately, is great for holding a natural curl or wave without that crunchy feel. The tropical scent makes me pine for the beach and reminds me that I won't be doomed to another summer of good hair gone bad.
My penchant for smelling like food doesn't fade with the holiday season, and Athena's Olive Tree helped to "feed" my craving, once again. Their Cherry Almond soap bar smells scrumptious, but it's not as heavy as the Chocolate Soap Parfait I was using during the winter (which conveniently ran out right in time for me to swap for something lighter and fruitier). The soap contains bits of oat, which help to exfoliate your summer skin– leaving a silky smooth finish behind. Athena's Olive Tree has just launched a brand new line of all-natural, inexpensive beauty products (the Cherry Almond soap is only $6.99 and lasts forever) on their revamped site.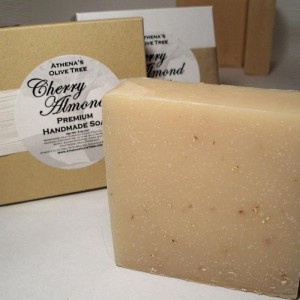 Last but not least– your feet. Anyone who dogs around in flip-flops all summer knows that a weekly pedicure isn't enough damage control. Topricin Foot Cream is a natural solution to ashy heels. It's light weight and scentless, which is a big plus when you're talking foot cream. Scented foot cream is a HUGE pet peeve for me. You might as well announce to the world that you're wearing foot cream, because that peppermint smell is all-telling. This cream is medicated and targets ankle and foot pain, which is perfect after a night of wearing Espadrilles or kitten heels or wedges or whatever the hell sandals will be in style this summer. You won't need to fear going barefoot.