Steve: There are those out there who will say that Brooklyn is emerging as a culinary hot spot.  These people are late to the party, and have been busy waiting in Manhattan for 20 or 30 minutes, hanging at the bar.  Perhaps the challenge is, great Brooklyn restaurants may be slightly off the beaten path to the average Manhattanite. Park Slope is a sure thing on 7th Ave, Carrol Gardens has some viable options, and you could likely stumble onto something in North Williamsburg wandering from the L train.  But the risk/reward ratio is far greater the further south into the 'Burg you venture.  Recently, resident LuxurySpot Vegetarian Representative Ashley and I visited Aurora, on Grand Street at Wythe Ave.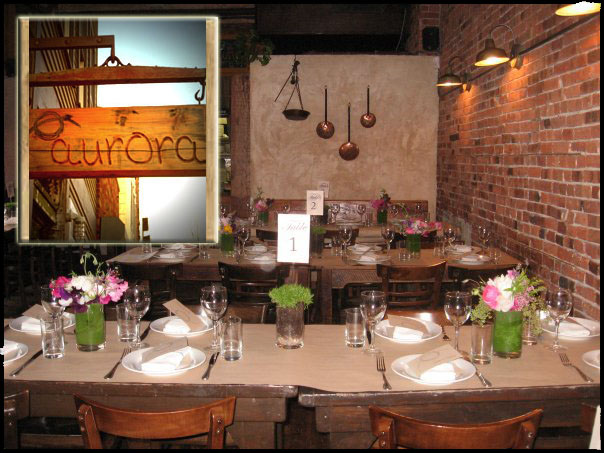 I've always loved this part of the neighborhood.  A block from the river, it maintains the industrial feel that Williamsburg was originally cool for, before it was all condos and hipsters.  Its greatest advantage may be its proximity to New Yorks greatest guitar store, Main Drag Music, to start the day off with some instrument shopping, which I may or may not have done.  Aurora feels good right from the start. An exposed brick interior, next to an enclosed garden gives it an inviting and comfortable feel, like a dinner party at someones very cool house.  Old wooden tables feel like endless meals have been served on them, which to me is reassuring.  Their menu is Italian, and while certainly authentic, its hard to classify it as traditional.
First off, their bread and pasta are both made in house, which I'm starting to believe should be a prerequisite when eating authentic Italian food. Trying not to fill up, we started with the L'insalata di Carote e Sedano Rapa, A salad with celery root, carrots, and almonds in a honey vinaigrette (pictured below).  This is as refreshing as it gets.  The almonds and honey provide the sweetness, paired against the mild bitterness celery root and vinaigrette, meeting at just the right middle ground.  In addition we tried he Calamari in Purgatorio, seared spicy squid with capers, lemon, garlic, and breadcrumbs. Now, as intriguing as it looks on the menu, it is even more intense in person.  This is not your standard deep fried calamari.  Served and seared in a cast iron skillet, burnt just enough with breadcrumbs, the smell is somewhere between spicy and citrus.  Your best friend ever will be the bread you use to collect the remnants in the skillet.  Forget manners, just go for it, we were informed this is the traditional way to attack such a dish, and I'm sticking to it.  Finishing out the appetizers was La Salsiccia, a home made pork sausage with charred broccoli.  I would compare this more to a steak than a bratwurst.  It was not simply burnt on the grill.  The flavor was complex and sweet, kind of like ground sirloin, rather than salty pork.  Its too good for a bun.
Each course was paired with a wine selected by Wine Director Gianluca Legrottaglie.  The vineyards and grapes are all Italian, keeping true to form.  My advice would be to ask for a recommendation and go with it, it felt like great time and care was put into the wine list, and you can taste the results.  The appetizers were paired with a 2006 Ferentano from Lazio, which had kind of a tropical fruit feel, supporting the citrus in the Calamari, and the tanginess of the Vinaigrettesa dressing.  The point is, they know what they're doing, and it certainly heightens the dining experience.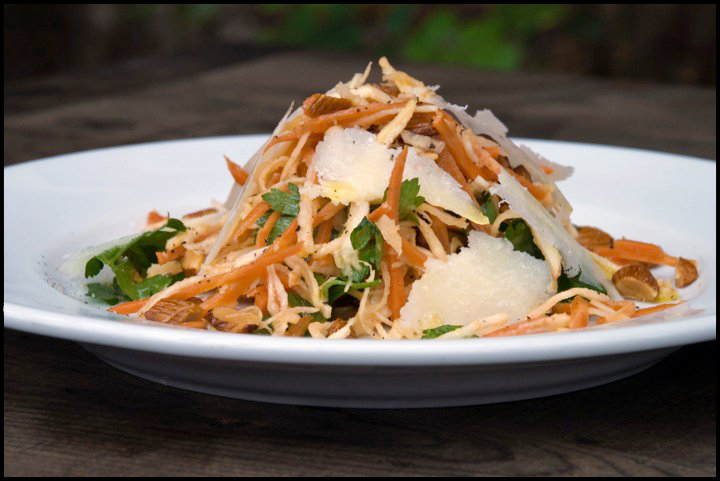 You can't pass up home made pasta, I believe this is cited in the city's restaurant license regulations.  The second course consisted of the Tagliatelle al Limone (pictured above), with Meyer lemon, basil, chili, and crushed almonds.  The Meyer lemon has a taste somewhere between a lemon and an orange, so its not as acidic as your standard lemon.  The almonds in the dish stand in for meat, providing texture and crunch, while the sweetness of the lemon is a welcome change from a traditional red sauce. Again I found myself scraping the plate, reluctant to leave any delicious sauce remnants.  Paired with a Pian della Corte 2008 white, it was just enough to bring your taste buds to attention for the main course.
The L'Agnello Brodettato, a traditional Roman lamb stew, thickened with egg yolk, lemon, and pecorino, with roasted potatoes, is as decadent as it sounds.  The lamb was incredibly tender and flavorful, there was no knife necessary, this was a fork only dish.  The stews rich flavor, accented by the pecorino and lemon worked so well with the lamb, I had to take a brief pause mid meal to applaud.  Everything soaks up the flavor, the potatoes became just another vehicle for the sauce, and it was gone before I knew what happened.


Ashley: On the Vegetarian (read: Pescetarian. I still eat fish) front, I was more than happy to let Steve indulge hard in his meaty dish selections, as I had plenty to choose from. He was beyond upset that my tastebuds were unable to experience the 'more-steak-than-a-bratwurst pork' sausage & 'no-knife-necessary' lamb, but I will attest to the rest of our meal being a sheer delight, only maintained on the upside by the ambiance & charm of our host and the warm decor. My main course, while Steve indulged his lamb, was the Pesce del Giorno, a dry polenta encrusted filet of market skate laid on a bed of sautèed spinach, pine nuts, currants and a light 'salmoriglio' sauce. The crunch of the polenta was welcome in conjuction with the flavorful and light skate. The spinach was perfectly cooked with the slightly acidic salmoriglio sauce to pull everything together.
And then, it was on to dessert. The menu offers a number of light yet decedant choices appropriate for any palette. For those who are looking for the intense Italiano experience, we recommend the le Frittelle, a fritter-like ricotta pouch drizzled in a chocolate sauce that is reminiscent of any bakery planted on the coast. For those who are looking for a little adventure? A twist on the traditional: the Panacotta al Melograno. This vanilla panacotta drizzled with a fresh pomegranate reduction literally left us with no words. Just another plate licked clean after savoring each creamy & sharp bite. Each sultry dessert dish was, of course, perfectly paired with our favorite choice of Gianluca's of the night, Vino di Visciolé – a currant dessert wine that was one of the most intriguing & multi-layered sips I've had in my restaurant crawl of Williamsburg. Buttery warmth emitting spicy, acidic & lemony notes only enhanced by the enchanting & berry-ridden scent. All in all? Perfection in a glass, accenting both the light vanilla of the panacotta and the darker chocolate drizzle of the Frittella. I was nothing but pleased with our time spent at Aurora.
So when you happen to find yourself in Williamsburg, avoid the fashion show of north Bedford ave, stroll down Wythe before its all shiny new structures, and hang out at Aurora.  Even when coming from Manhattan, its literally 1 train stop.  Do not miss the chance to pair some of their extensive wine selection with whatever meal you have, you won't regret it.  Perhaps the coolest thing ever though, is that they hold a Porchetta Day every Sunday.  Yes, that's a whole roast pig!  I, without a doubt, will be there for that, I'll see you there.