Our local deep south editor, Allison, walks you through the best things to do in New Orleans that only an insider would know.
Remember when you were little and you really wished you could live at Chuck E Cheese or somewhere like that? It had all your favorite things, and pizza! New Orleans is kind of like that, but even better because it is way more chill, and when you're an adult there is booze and in NOLA you can drink nearly everywhere. High give for drinking nearly everywhere, because that's already one of the best things to do in New Orleans.
I moved to New Orleans from the midwest so maybe it's just that I'm not used to having so much culture around me all the time, or multiple fun events to choose from every weekend, but even after living here for years the city is still new and interesting. If you are planning a trip or just want to vicariously live through my life for a hot second (it is literally hot though, it's still 90 degrees in September) here are the top ten things that you need to do in New Orleans.
Go window shopping. Or, you know, shopping shopping. New Orleans has so many small businesses that curate the very best. It doesn't matter if you are looking for souvenirs, exotic yarn, or even shoes made out of cork (we've got not one but two cork clothing shops) you'll probably find it here. Magazine Street is the biggest shopping street outside the French Quarter; it's about six miles long with residential areas sprinkled through out so scope out what shops you want to see first. You can also check out the shopping areas of Freret street, and Oak street to get off the beaten path.
https://www.instagram.com/p/BE2AP7GqZ6W/?taken-by=themercuteify
2. Drink with locals. Pro-tip, locals, (or at least all the locals I know) don't drink on Bourbon street. I'm personally one of those people who is grossed out by every little thing; Bourbon Street quite literally smells and is way overpriced compared my favorite smaller bars. Instead check out Frenchman Street (it's the local's Bourbon) for smaller bars with better selection. If you are in the mood for wine, grab your friends and head out to the Bywater neighborhood to have a glass or a bottle (or two!) at Bacchanal Wine, it's an experience.
3. Go to a parade. When most people think of New Orleans the first thing that comes to mind is Mardi Gras. I mean, before I moved here it was literally the only thing I knew about New Orleans culture. While I can tell you that yes, it is one of the best times of year down here, what most people don't realize is that Mardi Gras is really more like a month long celebration with parades every weekend leading up to Mardi Gras Day. Beat the crowds and come a week or two early, some of my favorite parades are Krewe du Vieux, Muses, Iris, and Thoth.
4. Oysters. Or just eat a bunch of seafood in general. In the French Quarter there are oyster bars on nearly every corner, heading out of the main touristy areas you can get great Oysters from Superior Seafood and Casamento's Restaurant. You can get raw oysters just about everywhere but I suggest char-grilled oysters because there is really, truly nothing like it, they are usually garlicy and served hot.
READ MORE: The French Market of New Orleans
5. Get some voodoo in you. Tour a cemetery, or Madame Laveau's house of Voodoo, get your future told by a fortune teller outside St. Louis Cathedral or tea leaves read at Mystic Tea Leaves, you can even go on a haunted tour around the french quarter. For the non-believers (ahem, me) it is a fun, kitschy thing to do, but let me tell you people take voodoo, hauntings, and the occult very seriously around here.
6. Walk through parks or gardens. There are small gardens through out the whole city, some (like the one pictured above in the French Quarter) only offer tours at certain times. Audubon Park is close enough  to the quarter and is about a three mile loop all the way around (which you don't actually need to do), City Park is in Mid City and is sprawling. You can go mini golfing, walk through the sculpture garden, see local wildlife and the live oaks.
https://www.instagram.com/p/BEoeaU4KZ4c/?taken-by=themercuteify
7. Desserts. Beignets and sno balls are the sweets of choice in NOLA. Cafe Du Monde is the quintessential Beignets cafe, and you can literally only get the square shaped doughnuts and a few different drinks. Let's be clear: beignets are the best things to do in New Orleans. There is always a huge line and I must say that my personal favorite beignets are from Morning Call located in City Park, they are a little crispier and they aren't doused in powdered sugar – instead you sugar your own. For the best sno ball in town you need to go to Hansen's Sno-bliz because it has a crazy selection of flavors and the ice machines really do make it into snow. Add some condensed milk on top for an extra indulgence.
8. Take in a festival. there are festivals nearly every weekend for every subject. Coming up in September is NOLA on Tap where you can buy tickets to sample lots of small brewery beers and it supports the Louisiana SPCA and people are welcomed to bring pets. There are often art festivals going on where you can see (and buy from) local artists.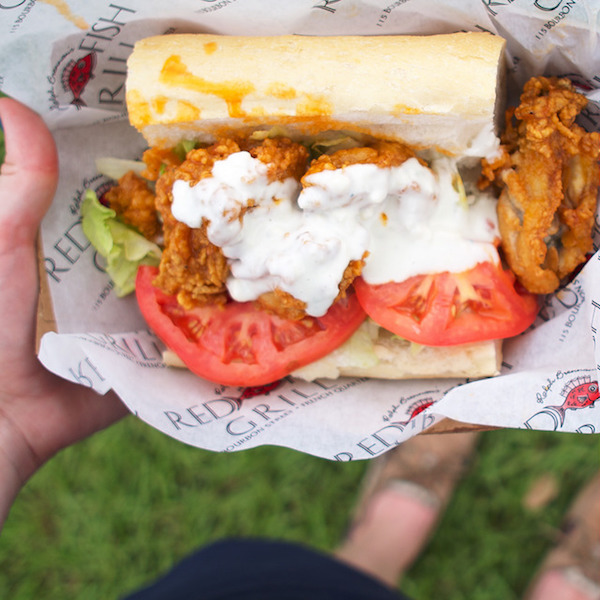 9. Get a Po-boy. The classic new orleans sub can be found in nearly every restaurant. My personal favorites are from Boucherie on St. Charles street and Guy's Po Boys on Magazine street. They are all going to be a french bread hoagie style sandwich, make sure you try a shrimp po'boy.
10. Jazz. The local music scene is one of the most important parts of New Orleans. Every festival I can think of has live music going on somewhere even if it isn't part of the agenda. Come to the French Quarter and you'll likely see small bands set up with people around just to listen to the music, another one of the best things to do in New Orleans. There are several jazz clubs too, or bars that have live music going. If you're in the French Quarter, check out Preservation Hall to see a show.