Rainbow hair is everywhere, but is funky hair appropriate for little kids? The Internet can't decide.
Lyra's 'unicorn tribe' funky dye job.
Even if you don't remember being one, (at 33 most of my childhood memories have long since drowned in alcohol) you know that children are nothing but bundles of joy, enthusiasm, and creativity. Kids know what they want, when they want it, and most of the time they aren't afraid to ask for it. What do you do however, if what your child wants is a funky, brightly colored funky hair style? You have to wonder if they will still like it in a few days, weeks, or even at the end of the school year when it's still growing out. Will be teased at school, or is dying their hair is even safe, given all the somewhat misunderstood and unknown chemicals we know are in adult hair dyes.
Mary Thomaston, a hair stylist and mother from Florida had to ask herself all these questions when her daughter, Lyra, asked for a unicorn-inspired haircut. Mary herself always dyes her own funky hair in various shades, and her daughter had been asking to shave the side of her head and add in some rainbow colors for years. Mary distracted her daughter for as long as she could, but eventually Lyra insisted on a new look for first grade.
READ MORE: DIY Lisa Frank Nails Tutorial
"I told her if the school gives us permission then I'll do it, and they allowed it. Her hair is already really light so all I had to do was add the temporary color. I tried to talk her out of the shaved side because I thought she might regret it once it was done but boy was I wrong. She was sooooo excited."
Mary posted pics of her daughter's daring new haircut on social media and received a mixed response. Some people supported the creative expression and wanted similar looks for their own kids, while others left hurtful remarks about her and said that her daughter was too young, and that such decisions should be saved for adults.
To this, Mary responded, "Really? Because when you're a grown up with crazy-colored hair, people say that such things are for kids. It's a contradiction. I say why not let them have fun while they're young! Who knows what type of job she may end up with, but a lot of them won't allow unnatural colors. When you think about it that way, it's actually the perfect time to let them experiment with color."
One of the controversial Instagram posts.
While I agree with that, there is obviously the question of safety.
READ MORE: Merman Hair is a Thing Now
Via social media some people complained that she was poisoning her daughter by putting the color on her scalp, and even called into question her parenting skills. As a colorist by trade Mary knew to use Manic Panic, which is non-toxic, and non-permanent.
"Sunblock actually has more harmful chemicals than Manic Panic," Mary says. "While I'm not one of those moms who gives into her child's every wish, I will reward my child for being a great kid. This is something she really wanted, and I knew it was safe so I figured why not?"
As you can tell from the photos, her daughter Lyra loves the look, and isn't shy about showing it off. Since sharing the photos, she has received numerous requests from other parents and kids to do similar things, and calls the rainbow-colored cuts "the unicorn tribe," a group originally started by stylist Alix Maya.
Maybe this is the Southern gay boy in me talking, but as a kid my fondest wish would have been being part of a unicorn tribe — funky hair and all. In this day and age, we should all learn to relax a little when it comes to things like hair color, so I think what Mary did is awesome, and that her daughter Lyra looks exactly like the little trend-setter that she is.
A little girl that obviously knows what she wants.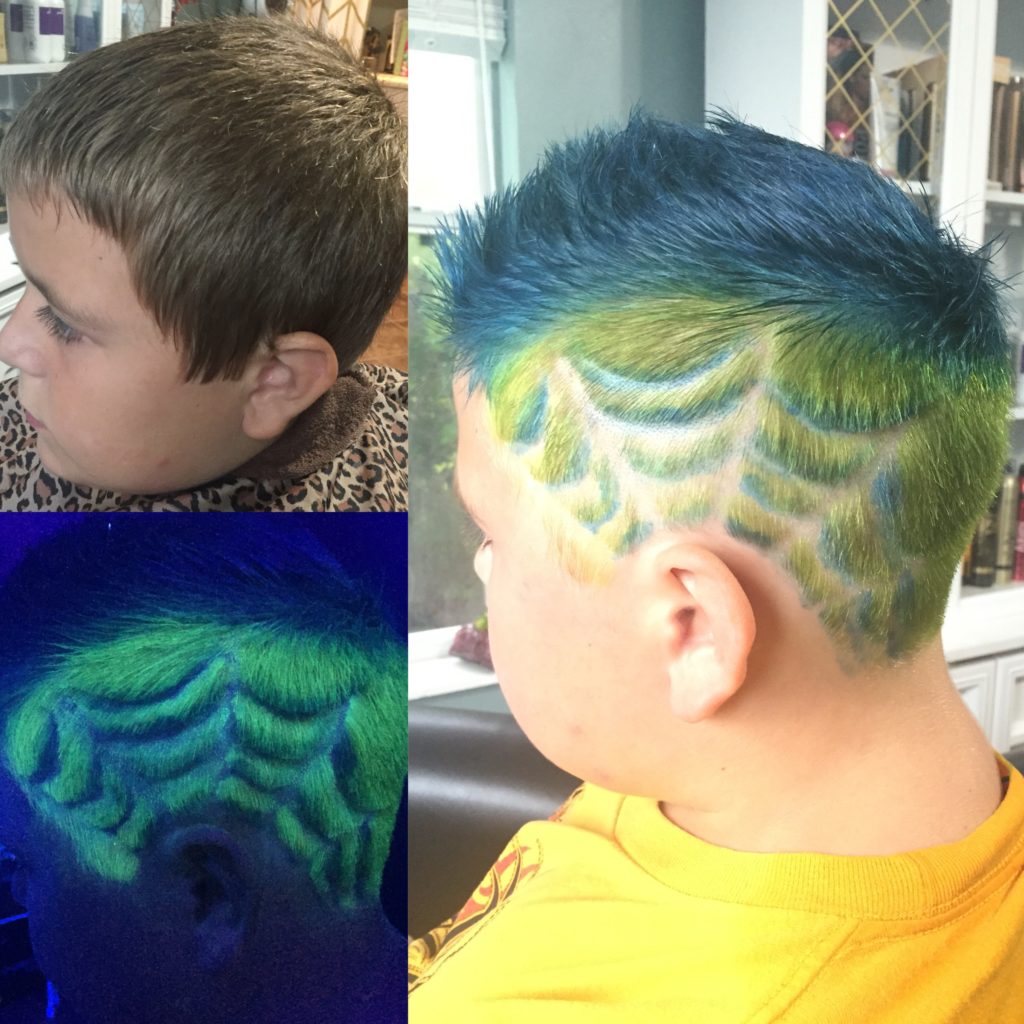 Boys like colorful hair too, especially when it glows in the dark.
A more casual dye-job, for parents who are on the fence.
Mary and her daughter Lyra, before her funky hair became a rainbow of awesome.
photos by Kiersten Grant Photography