When I was a kid, my mother used to butcher my hair. When I say butcher, I don't just mean that she had no formal training; I mean that it looked like she used a weed-wacker to sculpt my sideburns into uneven strips of beef jerky, hanging from a smokehouse behind a meth lab in the backwoods of North Carolina, while cutting my bangs with a pair of scrap-booking pinking shears operated with nothing but her toes.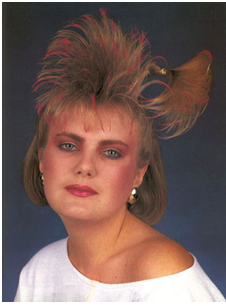 We call this one the "Kimmy Gibbler".
While going through elementary school looking like a tranny in a burning wig was no picnic, it gave me a unique advantage when it comes to identifying horrible haircuts. The following follicular monstrosities are the worst of the worst hairstyles that I could find on the World Wide Web. If you will notice, most of them are young. Blame the parents, right?
Editors Note: One of them is me as a child. If you guess which one you win a free wedgie.