Finding a scalp massager that actually works is no easy feat. Lucky we have managed to find the best scalp massager on Amazon, and it has garnered thousands of glowing reviews thanks to its ability to increase scalp circulation.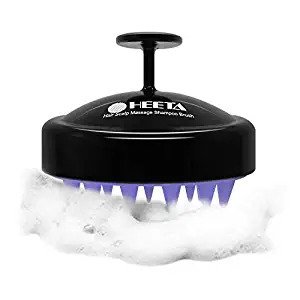 The massager is manually operated, saving you from those pesky batteries. If you think this is hard work — think again, because it takes just a couple minutes a day and can easily be done in the shower.
One customer revealed, "I have some health issues that make the motions of washing your hair, painful in my hands and elbows. I saw this and decided to try it. I am pleasantly surprised at how much more comfortable it was to use! The silicone isn't too hard, and the whole thing is lightweight. I thought the price was reasonable, and the product seems to be well made."
Another wrote, "It is manual not an electric massager brush. But it's more convenient than the electric one."
The best scalp massager on Amazon works on all hair types
Long, short, thick, or thin, this massager handles all types of hair with relative ease. What a relief, right?
Even 4B hair is not exempted, "LOVE this item!! I have 4b curly natural hair, and it was a huge help with getting my shampoo/co-wash all the way to my scalp. As long as you use it sensibly (not swirl it in circles until your hair knots up), it is just wonderful. Instant improvement on the amount of dandruff present after my first use. I completely recommend."
It's great for helping with an itchy scalp
When we say this is the best scalp massager, we definitely mean it.
On customer with an itchy scalp noted the difference; "So far I've used this product twice and I'm blown away. I don't usually get dandruff, but my scalp is always uncontrollably itchy. To the point where it looks like I have lice because I'm scratching so much. I'm not going to lie and say it hasn't itched at all, because it still does. But HOLY CROW did it make a difference!"
… and scalp psoriasis
One review completely assured us that this product is also perfect for those with scalp psoriasis. "Pleasantly surprised. I was definitely a little skeptical that this thing would help me, versus hurt me. I have scalp psoriasis and was worried that the 'soft' bristles wouldn't be soft enough, or not sturdy enough to comb out the flakiness. It doesn't hurt my psoriasis at ALL, and actually feels great. My scalp feels cleaner than ever, I'm going to use this every time I wash my hair!"
You can even use it with witch hazel for dandruff as a combined solution.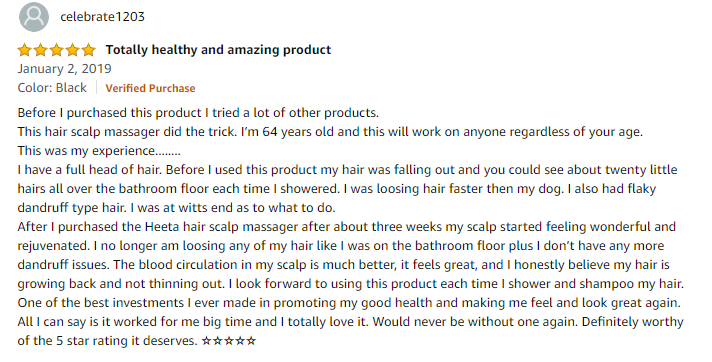 With great features like portability, beautiful color selections, and thousands of raving reviews, this is probably the best scalp massager.

Love this article? For more beauty, style, travel, and trending topics check out The Luxury Spot on Facebook. Like us and we'll love you back!