Skincare is tricky… what works on your skin might make your sister's flare up, or worse yet, it's often hard to find the right products that really make your skin even, smooth, and radiant.
"Serums are usually thick liquids and often clear. They are water based and, therefore, lightweight and quickly absorbed into the skin. The are easily used by all skin types. Many companies formulate serums for topical active ingredients such as Vitamin C, peptides, alpha hydroxy acids or retinols. They can usually be formulated at a lower pH and can be layered under other products without interfering with them," says Debra Locker, publicist for Skin Authority.
There are a ton of serums out there, but here are our top 5 (in no particular order).
1. Skin Authority's Super C Serum.  This 1 ounce bottle may seem pricey at 92.50, but when you see all the nearly-magical powers this serum has (and how it lasts a surprisingly long time), you'll be hooked.  This serum is VERY highly concentrated with 20% ascorbic acid.  It's perfect for anyone looking to repair photo damage and prematurely aging skin.  This is a total must have for warm-climate gals in places like Miami, L.A., and and San Diego.
2. Elizabeth Grant's Age Defense Eye Serum.  There's no reason that your eyes don't deserve some love and attention, too.  This lightweight serum helps prevent dark circles, puffiness, and lines with active ingredients including red clover, cucumber, sage, and Torricelumn.  Clinical studies found that 90% of users reported firmer feeling skin after use.  Whew! $50 at ElizabethGrant.com
3. Mychelle Clear Skin Serum.  If you're prone to oily skin and breakouts, this one's for you! It reduces oil production, clears pores of dirt and debris, and relieves the skin of inflammation and discomfort while reducing the chance of scar tissue formation.  Natural acids encourage healthy cellular turnover and collagen production.  Great for spot treatment, or all over.  For $26.95, this one's worth having on hand even if it's just for emergency PMS help.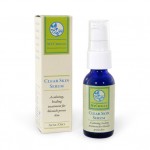 4. La Prairie Caviar Crystalline Concentre. If price is no object, you can dazzle your skin with diamonds and caviar. This serum has a subtle shimmer and is the most viscous of the group, offering light moisture, and an instant glow.  The ingredients promote skin rejuvenation, collagen production, and overall radiance.  $375 for 1 ounce.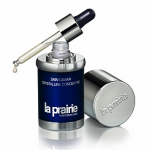 5. Sabon Night Serum.  This concentrated night serum boasts no animal testing, no parabens, and is eco-certified. Lotus flower oil purifies the skin, heals scars and aids in the renewal of collagen fibers.  If you're looking for an Earth-friendly serum with flower essentials, this is a good choice.  At $49 for an ounce, it won't break the bank.
Disclosure: All products were provided for review. No monetary compensation was received for this review. All opinions belong to the author.