A sparkly clean, white, fresh, minty mouth area is the best accessory one can have. The most important part being, of course, fresh breath. We've tested these products to come out on top: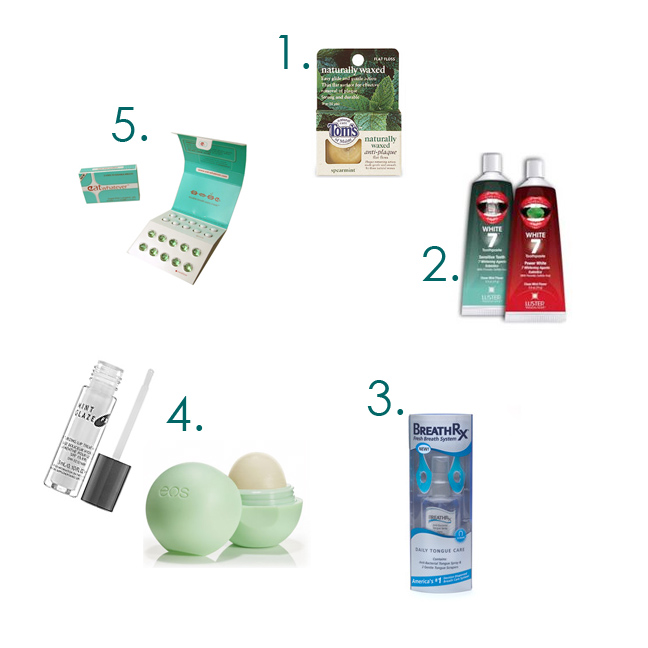 1. Floss: After brushing, our mouth may not feel yucky… but it most certainly is until we floss. Food, plaque and tarter are no match for a good, solid floss. A prime example being Spearmint floss from Tom's of Maine. Natural ingredients like beeswax for ease of use, and natural resins to combat bacteria will leave each area of the teeth sparkling. Floss well and your dentist in Matthews NC will be happy to see you. TIP: Flat floss works 2x as hard as a round floss. You'll cover more area cutting your time down dramatically – with a more effective cleaning.
Tom's of Maine Antiplaque Flat Floss TomsofMaine.com
2. Brush, Brush, Brush: Use a multi-tasking toothpaste like Luster's WHITE 7 Toothpaste with the inclusion of 7 whitening ingredients and 45 essential oils – this innovative formula ensures that you attain a bright, white smile while maintaining overall health and oral hygiene will help to keep your teeth sparkly & clean without promoting sensitivity that usually accompanies whitening product. Dentists recommend no less than 2 minutes in your brush time. Try pumping your iPod on and brushing for a whole song! Or try brushes, like these from Oral B– equipped with a pulsating timer to alert you when your 2 minutes are up.
Luster WHITE 7 toothpaste LusterOralCare.com
3. Rinse/Scrape: Yea… I said scrape. brushing won't get you everywhere in life.  A solid mouthwash will help to slough dead skin off of inner cheeks & the roof of the mouth ( bacteria heart's to feed on dead skin… ew). Breath Rx carries a Tounge Care Kit that will blow your mind – as well as kill your bacteria. Scrape after your floss & brush sesh to sweep away the food and debris that feed odor-causing bacteria on your tongue and in your mouth. Finish up with one quick spritz of the BreathRx Anti-Bacterial Tongue Spray to banish any left over germies & rinse with the Breath Rx Anti-Bacterial Mouth Wash to cleanse & preserve.
Breath Rx Fresh Breath System BreathRx.com
4. Lips: Glosses & balms are usually at the top of the handbag essentials for the modern lady. Why not skip the strawberry, or fizzy peach flavor to help your breath maintain it's minty state? We dig the eos Evolution of Smooth in 'Sweemint' for those of you who suffer from a dry lip, or who want to maintain your supple pout. Plus… you'll ALWAYS be able to find this spherical contraption in your bag. Jam-packed with a ball of solid balm, this stuff helps to bring your lips from dry to to die for…with a minty scent.  If you're looking for a more dramatic gloss… our fav is CoverFX's Mint Glaze for a clear, powerful & thick formula, with a wand & sleek thin casing. Super easy to throw in your clutch for a night out – with a fresh breath guarantee.
eos' Sweetmint EvolutionofSmooth.com & CoverFX's Mint Glaze Sephora.com
5. Candy: eat-whatever mints are a editor fav. Not only are they 100% organic and sugar free… but this two step system that will have you swallowing & sucking like a pro! No, really… swallow yourself two or three of their jelly-caps packed with essential oils to neutralize bad breath from the source ( even Bryce's Tamba experience was NO MATCH for these little wonders!)
eat whatever mints eat-whatever.com
Disclosure: All products were provided for review. No monetary compensation was received for this review. All opinions belong to the author.