Everyone loves a trip to the spa.  But getting a facial, a seaweed wrap, fantastic skin treatments and awesome nutritional products is back to being costly here in NYC.  Yet another reason that we're all in a deep depression that SpaWeek is over.
Well, I was lucky enough to try a bunch of spa like treatments you can use in your home that can make you feel like you've been away a week—and the best part?  You can fit them all into your own time and budget.  And you can maintain the feeling for weeks no appointments necessary!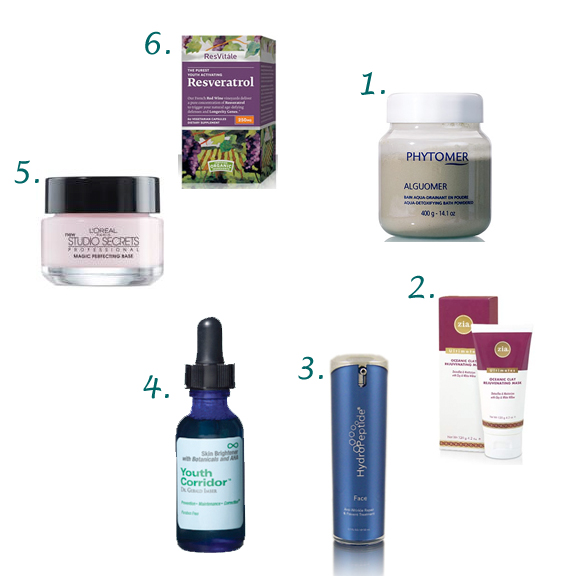 1. First how 'bout a seaweed wrap-type experience in your own home? On your own time! I love the summer, and for the most part I completely live at the beach.  So I was excited to try Phytomer's Alguomer Aqua-Detoxifying Bath Powder. I couldn't wait to give this a shot.  To my surprise the powder really emulated that fresh feeling your skin has after a trip to the beach.  The only complaint I've ever had about ocean water is, on occasion, the temperature.  Well in my own tub that can be controlled.  Soaking with a glass of chardonnay and a book by one of my fave chick–lit author's… I was in heaven.  I stayed in the tub longer than the 15-20 minutes recommended, I was just enjoying it too much to get out.  Following product directions, I rested in a bathrobe for 30 minutes—and to my surprise THAT'S when I really felt the contouring bath powder working.  My skin felt tighter and I can honestly say it's the only time I looked forward to a cool shower to complete the treatment.  Thankfully the bottle is a generous size 'cause I can't wait to do this again.
2. During my bath I tried Zia Oceanic Clay Moisture crème.  The scent of this product alone could cause an addiction.  The feel of it on your skin only reinforces the craving.  I smoothed this on my face while in the tub.  I think this may really be a case of addicition.  The natural oceanic clay mineral water and algae extract had my skin feeling soft, smooth and thoroughly and deliciously nourished.
3. Looking for something to reduce age spots or even out a complexion that might show signs of sun abuse? My BFF, a Sandra Bullock double (minus the cheating husband) swears by Youth Corridor's Skin Brightener with Botanicals and AHA.   She uses it twice a day as directed and credits this product for her even skin tone, youthful glow and her Oscar win.  Ok, so she doesn't really have an Oscar—but she has plenty of  guys asking her if she's ever been told she looks like this year's academy award winner!
4. My skin is sensitive.  Usually that means settling for products that don't really work or enduring an annoying stinging sensation only other sensitive skin sufferers understand.  Not true with Hydropeptide Anti-Wrinkle Skin crème.  Perfect for the summer this has an SPF of 30. Light, airy, instantly absorbed, with no greasy, gunky feel and no stinging this is my perfect moisturizer.  And it's not just providing moisture and sun protection. The cucumber and aloe reduces the redness, another trait sensitive skin sufferers are familiar with.  Your skin looks better immediately and over time it promises to reduce wrinkles too!
5. I'm not a huge make-up fan in the summer.  When it's hot the last thing I want on my skin is layers of thick make-up, but I still want my face to have a smooth, youthful, even look.  Well, L'Oreal's Studio Secrets Magic Perfecting Base has provided me with the perfect solution.  It makes your skin's surface look soft, smooth and flawless and makes it feel like velvet.  Although it's a primer, it can be worn alone.  I've worn without any foundation over it, and have gotten a ton of compliments on how healthy my skin looks… sans make-up!
6. Finally, if you're tired of slathering product after product on your face and body and praying for results, now there's a way to do something for your skin from the inside!  ResVitale supplements from GNC have the anti-oxidant power of hundreds to thousands of glasses of red wine in each dose!  And while I can definitely believe it might be fun to TRY to drink that much red wine there's a good chance my liver would give up well before any "beauty" benefits were visible!  GNC will be carrying a line of ReVitale products for collagen enhancement and age defying benefits.
Disclosure: All products were provided for review. No monetary compensation was received for this review. All opinions belong to the author.