I've always been the type of person that never really needed to work out. I was never overweight, except for a very awkward period in grade school, so I never felt the need to go to the gym. As of late, I've been a victim of skinny shaming. People have picked on me for having this slender smooth figure. Kidding, kinda. I always have never really enjoyed putting on workout clothes or sweating (outside of the bedroom) in general.
READ MORE: RUNNING TO THAT BIKINI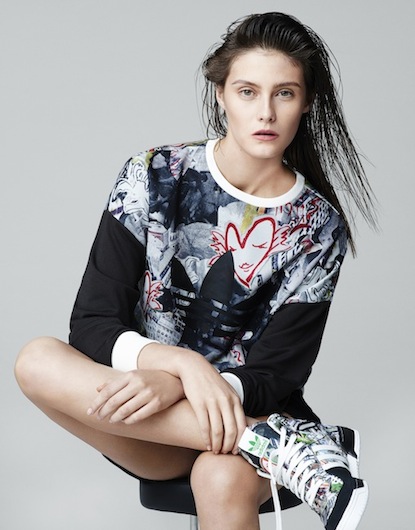 Lately, Adidas has been welcomed into the fashion world quicker than Proenza Schouler. The style elite used to stick solely to heels and booties, but sneakers have become a thing for us! We've seen Adidas on just about everyone during fashion month and there's also been a rise in luxury athletic wear.
Of course, who knew exactly what to do with this athletic craze? None other than fast-fashion retailer Topshop. Dropping on March 20th, Adidas and Topshop will reveal an exclusive collaboration. The collection will feature 20 pieces in traditional Adidas silhouettes and offerings but with a more fashion forward touch. We're quite excited for this as cute workout gear is hard to come by. Sure, we may not always be working out in the collection but it will surely motivate us. The collection will range in price from $40 – $150. You'll be able to purchase the collection at Topshop, Topshop.com, select Adidas stores and Nordstrom.com.
Here's to working out ladies!
[
via
]