We're betting you never thought of which colors would be most Zoom-appropriate and success-driven. It turns out the colors and patterns we least expect may lead to career success. More people than ever skipping their usual commutes and opting for work-from-home lifestyles, blending comfortable fashion staples with business casual style sense is more important than ever — and it seems like being blue is more positive than anyone ever expected.
According to a survey conducted by Resume.io of 2,786 employees, an overwhelming amount of candidates reported wearing varying shades of blue when they were hired either in-person or by zoom. It turns out, what you wear and the colors you choose can help you land your dream job and then keep it — even if it's remote.
Choose blue when you Zoom with the boss
Go with WFH classics like tunic tops, but stick to shades of blue for maximum success.
"Blue is popular choice that exudes calm confidence and authority," explains Lee Chambers, a psychologist and wellbeing consultant. "It can place employers in a place of serenity." Considering 81% of respondents reported positive workplace results when wearing blue, it seems like an almost sure thing.
Opt for dressed-up comfort classics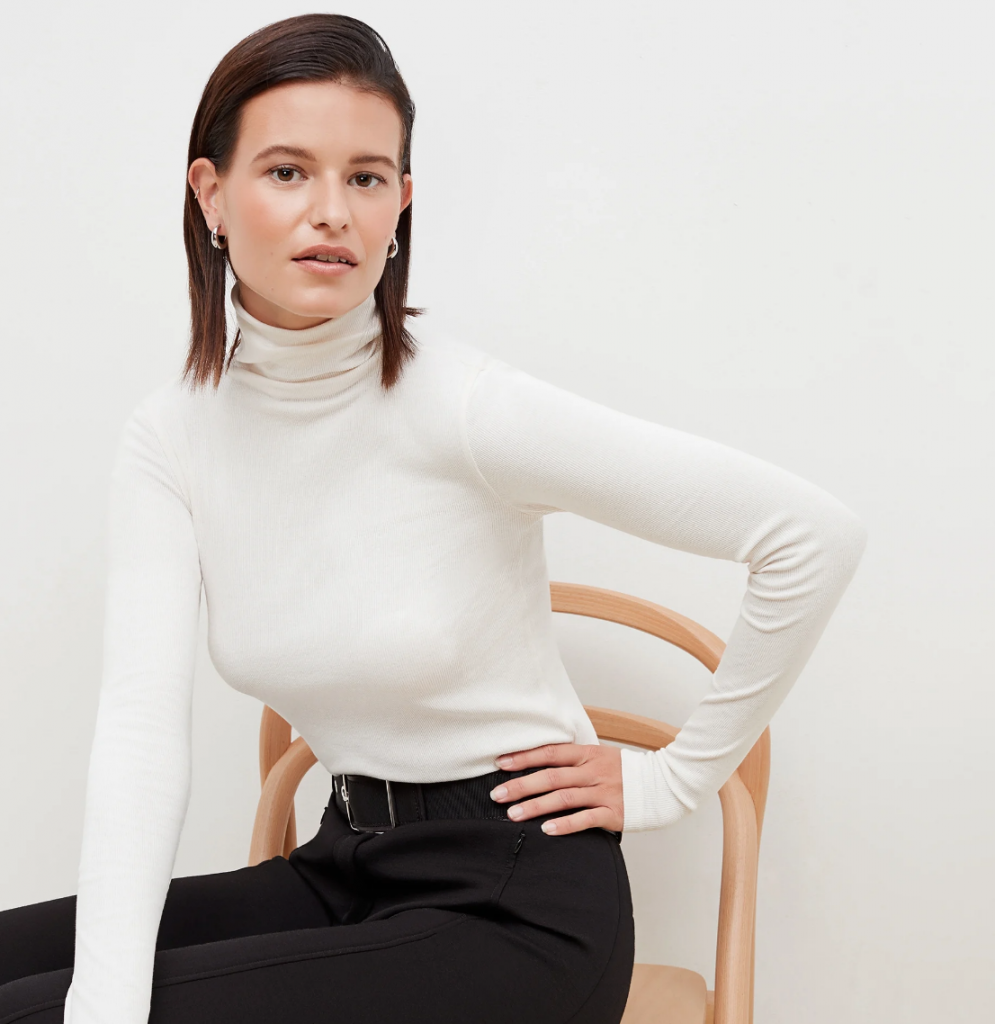 Neatly-tucked ribbed tees, turtlenecks, and three-quarter sleeve tops feel as comfortable as the softest women's pajamas while appearing put together. Opt for crisp classics that pair just as well with on-trend wide leg pants as they do skirts (in case you ever head back into the actual office).
Lee says white on its own is "uninspired," but pairing it with a blue, red, purple, or black can show you understand the value of, attention to detail."
Add bold dashes of blue in unexpected ways
Don't feel compelled to ditch your whole wardrobe just because you found out wearing blue is the secret to career success. You can add pops of whimsical, eye-catching blue accessories to your existing wardrobe for a Zoom and budget-friendly way to seal the deal. Pieces like this also make some of the best gifts for women in their 20s.
Deeper blue tones signal serious dedication
Bright, punchy notes of blue are always fun — but deeper navy-like hues are signs of sophistication, elegance, and commitment. There's no reason your navy has to be a gold-button blazer though.
These satin-trim Sandwash Pants are from Soma's new collection of WFH-perfect essentials. They're soft, cozy, and just as wonderful on the sofa for movie night as they are for a board meeting by Google Hangout when paired with a tucked, tailored button down.
Purple works almost as well
If you're not quite committed to feeling blue, that's okay — it turns out women wearing purple have fairly high workplace success rates too. Try exuding optimism with soft, lavender accents like this detailed sweater from Tobi. Wear it over a matte black jersey slip dress for a pulled-together look, or with your favorite weekend jeans to hang out.
Greens with blue-undertone shades work nicely
You can branch out to other shades like sage, turquoise, aqua, and variations of green that offer strong cool, blue undertones. It seems human psychology seems to respond well to those. Consider upgrading last spring's sweatshirt scene to this fall's cooler, positive-vibes pullovers like this one by Peace Love World.
Love this article? For more beauty, style, travel, and trending topics check out The Luxury Spot on Facebook. Like us and we'll love you back!