A brand new collaboration from sportswear brand Feel The Piece designed by Tyler Jacobs showcases the artwork of up and coming LA street artists, and will continue to introduce new talent for seasons to come. Dedicated to combining high quality garments with dynamic art, the line becomes a nexus between street and style.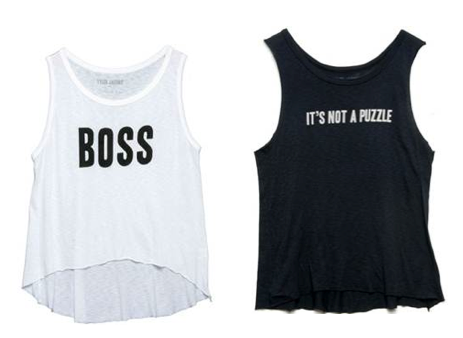 For their first collection, they have chosen to feature the art of LA based street artist, Annie Preece. At sixteen, Annie became one of the first female underground guerilla graffiti artists and has gained respect for her free flowing use of color. Jessica (nuskr) Nelson and Becca Midwood will be introduced for Summer 2013.
Feel The Piece, which launched in 2010, offers sleek yet comfortable essentials that easily translate from day to night. From super soft modal tees to chic cashmere knits, Feel The Piece provides the confident, stylish woman with a complete closet. These great prints and sayings are perfect for spring, paired with light or dark wash jeans, with cute pair of converse or flats, you will have the ultimate simple street wear spring outfit.
Prices range from $74-$83 and are available for purchase here.