A group of Russians have started construction on an underwater church.
Because religions shouldn't be constrained to dry land, a group of Russians sponsored by a motorcycle club called the 'Night Wolves' are creating a Russian Orthodox Church of the Moscow Patriarchate at Cape Fiolent, near the Crimean Coast. Before we delve any deeper into the spiritual aspects, let's take a deep breath and note that it's obviously Crimea, because Russia is huge but Crimea is the only reasonable place to do publicity-garnering things.
Recently, divers planted a huge cross that looks kind of like a ships anchor to mark the spot where construction will begin.  The church will be constructed like any other– with religious iconography inside constructed of stainless steel or stone, and there will be a large table and concrete candle holders for tourists to use (although I don't know how they plan to create fire underwater). But I mean, there are enough Russian scientists and such to sort out the underwater-fire-issue I suppose.
READ MORE: Russia is Waging a War on Cheese
You know, they say that the whole Ebola thing was a stunt in order to distract us from seeing what Russia was really doing with Serbia. This 'underwater church' thing is either the same kind of raw deal, or a hare-brained idea that might actually turn out to be pretty cool. If it turns out to be an entirely spiritual pursuit of cool, we're down.
Now grab a tank of oxygen and get your fill of your Savior.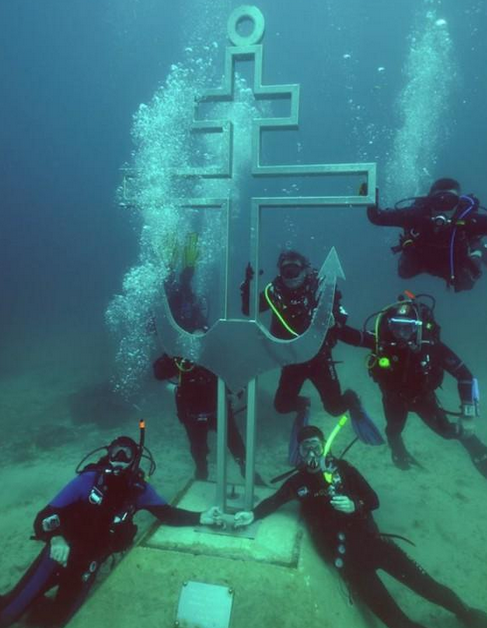 [
via
]