Artist Nona Faustine pays tribute to the past by posing nude at former slave trading sites, including the Wall Street Slave Market.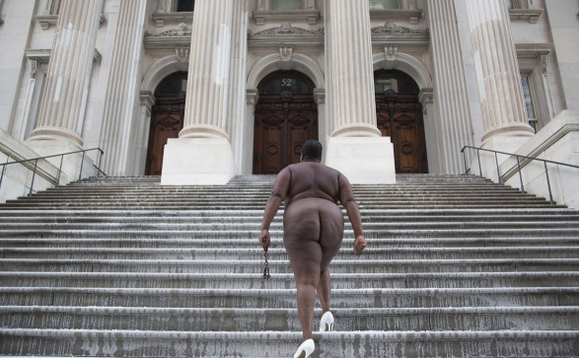 New York City Hall, New York, Obviously
Being from the North part of Florida, (basically Alabama), I have always considered myself pretty well versed on the slave trade of the South. The education on the subject is everywhere, and it's a harrowing past, especially for a mildly brown man like myself. But my southern roots never exposed me to this little fact: many parts of the North, including New York, dealt in slaves as well. Because, money is money.
Artist Nona Faustine, in an effort to call attention to the history and legacy of slavery, created a photo series called White Shoes where she posed nude at former slave trading sites in New York.
In case you didn't know:
"Slavery was introduced to Manhattan (then New Amsterdam) in 1626 and, for two centuries, remained a significant part of New York life. In fact, the New York City Common Council declared Wall Street the city's first official slave market on December 13, 1711, deeming it a space where human beings could be enslaved for the day or for the week. The slave market took the shape of a wooden structure with open sides, and held approximately 50 people at a time. It operated as such, on the corner of Wall Street and Pearl Street in the heart of the Financial District, until 1762. Slavery was legally abolished in New York in 1827."
Faustine  shed her clothes at these locations including the Wall Street Slave Market because that is how female slaves were bought and sold, even though the nude female form is still very controversial. The white shoes she wears are supposed to represent the "white patriarchy that we cannot escape." Whether you like the art or not, it's something to think about.
READ MORE: What Does Homophobia Mean, Actually?
I don't know about you, but I think what Faustine is doing is pretty awesome. Being that brave for the sake of art is always to be commended, even if she will probably need to switch those shoes to a more appropriate tan-ish color after Labor Day.
Wall Street, New York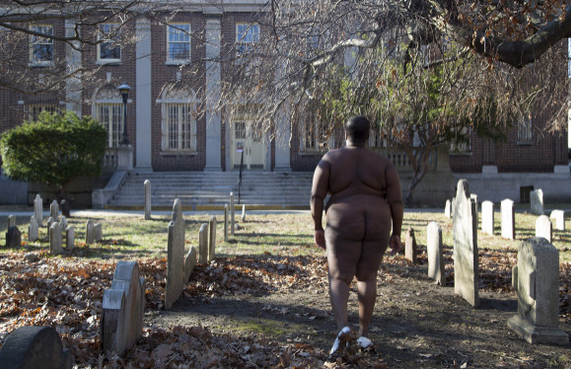 Pre-revolutionary Dutch Cemetery, Brooklyn
[
via
]