SampleSaleShop.com is similar to all of the other online closeout sites in the world… with one exception.  ONLY cool products provided for sale. That's it – nothing whack. It's a pre-requisite.
And the icing on the hipster-frock cake?  They're giving away Ray-Bans, AKA the epitome of 'cool 'eyewear, in a limited edition NYC Subway design.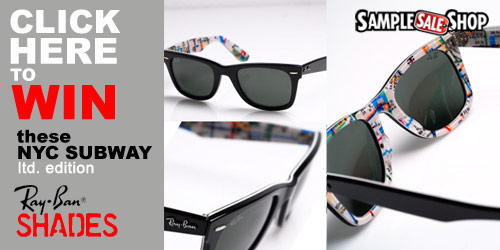 Sculpted in the iconic Wayfarer style that we know and love, these shades hide a surprise – the backs are printed with a section of the New York subway map! We're giving away one pair of these covetable frames (which are sold out in a lot of places) to the influential guru who can get the most friends to sign up for exclusive membership to SampleSaleShop.com. You and your friends will receive insider invites to Sample Sales and Pop-Shops with your favorite Streetwear and Contemporary Cut and Casual brands & Street Art at 50-80% off, PLUS for every purchase your friends make, you'll get $5 for free to spend on our site. Think about how much that could add up to if you get 5, 10, 30 or even 100 of your friends to sign up!
So what are you waiting for? Get your homies to sign up by tweeting and FBing this message:
Help me win these Ray-Bans AND help yourself get some free $ to spend @SampleSaleShop by signing up here: http://su.pr/57qjaR
We'll be tracking to see which of you has the most reach in your social network and will announce the winner on Friday, July 9th. And don't forget to sign up yourself, below to enter the contest: