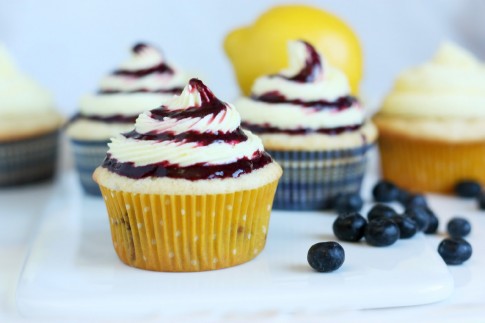 These cupcakes are totally rocking my world. They are the quintessential "I don't care about anything" cupcakes. Can't get enough. Image and recipe via Cooking Classy.
Ingredients
1 1/2 cups all-purpose flour
1 1/2 tsp baking powder
1/2 tsp salt
1/4 cup butter, melted
2 Tbsp vegetable oil
1 cup granulated sugar
1 large egg
1 tsp vanilla extract
1 1/2 tsp lemon zest (the zest of about 1 large lemon or 1 1/2 small lemons)
1/4 cup sour cream
2/3 cup buttermilk
1 cup frozen blueberries
Directions
Preheat oven to 350 degrees. In a mixing bowl, whisk together flour, baking powder and salt, set aside. In a large mixing bowl, using an electric mixer, blend together melted butter, vegetable oil and granulated sugar until well blended, about 30 seconds. Stir in egg, vanilla and lemon zest. Blend in sour cream. Add in flour mixture alternating with buttermilk in two alternate batches, blending until combine after each addition. Fold in frozen blueberries. Divide mixture evenly among 12 paper lined muffin cups, filling each one about 3/4 full. Bake cupcakes 20 – 25 minutes until toothpick inserted in center comes out clean. Allow to cool completely then frost cupcakes with Lemon Buttercream Frosting and drizzle with chilled blueberry sauce. For best results, serve immediately after drizzling with blueberry sauce. Store in an airtight container.
For ingredients and directions for lemon buttercream frosting and blueberry sauce click here.