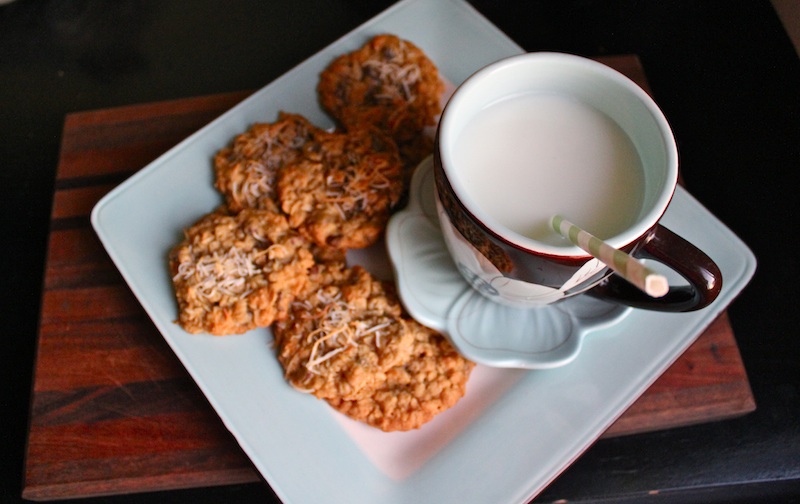 To me, coconut added to anything ups the bliss factor exponentially — this is no exception.
Recipe & Photo via FromTheLittleYellowKitchen

Oatmeal Chocolate-Chip Coconut Cookies
Makes about 4 dozen
Ingredients:
1 cup white whole wheat flour
3/4 cups all-purpose flour
1 teaspoon baking soda
1/8 teaspoon salt
1 cup packed brown sugar
1/2 cup granulated sugar
1 cup (2 sticks) butter, softened
2 eggs
2 tablespoons vanilla almond milk (or regular milk)
2 1/2 teaspoons pure vanilla extract
2 1/2 cups quick or old-fashioned oats
2 cups Semi-Sweet Chocolate Chips
1 1/2 cups unsweetened coconut flakes, plus more for topping
Directions:
Preheat oven to 375° F.
In a small bowl, combine flours, baking soda and salt. Cream the softened butter. Beat brown sugar and granulated sugar into the butter with stand (or hand) mixer, until creamy. Add the eggs, almond milk and vanilla extract and beat until combined. Gradually, beat in the flour mixture. On a low setting, stir in oats, then add the chocolate chips, and finally the coconut, and mix well. Drop about 1 rounded Tablespoon amount onto baking sheets, lined with silpats, if available.
Bake for about 8 minutes, then quickly remove from the oven to add a pinch of coconut flakes on each cookie, slightly pressing it onto the top. Return to the oven and finish cooking until golden brown, about 5 more minutes. (Bake for 12 to 13 minutes, total.) Cool on baking sheets for 1-2 minutes then remove to wire racks or a brown paper bag to cool, completely.
Recipe & Photo via FromTheLittleYellowKitchen