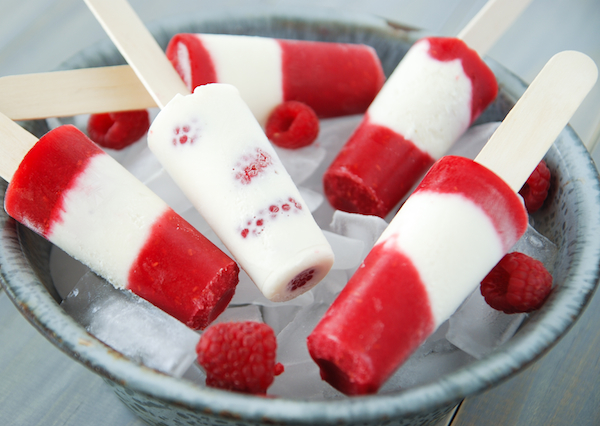 We just can't get enough popsicles during this hot weather! They are just what you want after spending any amount of time in the sweltering sun. Recipe and image via The Novice Chef Blog.
Ingredients:
8 oz fresh raspberries (or blueberries/blackberries/cherries)
1 tablespoon water
4 oz low fat cream cheese
3 tablespoons fat free milk
1 teaspoon vanilla extract
1/3 cup powdered sugar
Directions:
In a small saucepan over medium heat, cook raspberries and 1 tablespoon of water for 10 minutes or until they are easily broken up with a wooden spoon.
Transfer mixture to a food processor (or strong blender) and puree till there are no lumps left. Refrigerate raspberry puree until cool, about 30 minutes.
Then in food processor, puree cream cheese, milk, vanilla extract and powdered sugar -until smooth.
In popsicle molds, layer raspberry puree and cream cheese mixture. Insert popsicle sticks and freeze for at least 2 hours. Enjoy!