[ Silence ] -Charlie Chaplin (who shares my April 15 birthday)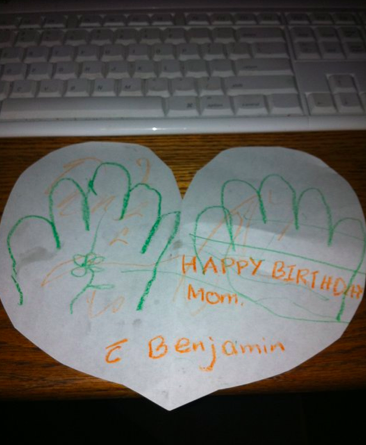 1. Best Birthday Card EVER. I got a card this morning my from 2 year old son for my birthday. It's the first birthday card I've ever gotten that's made me cry, and probably because it's the first birthday card I've ever gotten from a child that's my own. It was simply one of the most beautiful and special moments of my life. I plan to frame it and put it somewhere special alongside my passport, Dunkin Donuts bathrobe, and the strand of Ashley's hair that I keep just in case I ever need to replicate her DNA.
2. New Office! Woohoo! We finally made the big move to our new SoHo office (for those of you non-New Yorkers, SoHo is a trendy lil neighborhood downtown, sandwiched between TriBeCa and the Village). We're not quite done furnishing yet, but we're sharing an open loft space with a fashion showroom. You know what that means… lots of time to play dress-up! Ashley already tried on an assortment of $1,000 hand silk screened capes by Suzanne Rae this morning.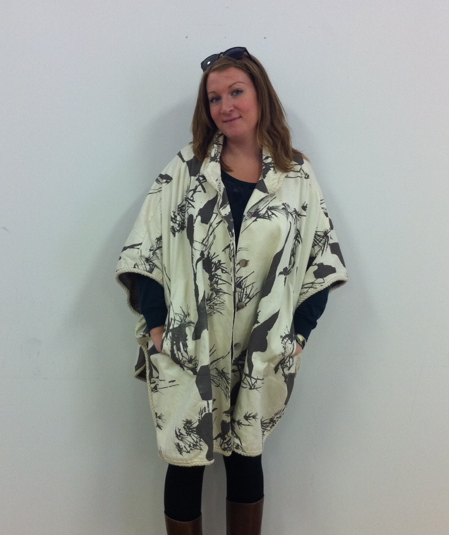 3. Oops, I'm Crazy. Last night Ashley and I had the pleasure of previewing the new De Beers website along with a ton of their ultra-gorgeous and nearly-perfect diamonds. It was like a dream- we draped ourselves in diamonds the size of walnuts while they fed us things topped with caviar. At some point the man helping me with jewels suggested that I try on a high-clarity, emerald cut diamond solitaire to the tune of 5.1 carats. Ladies, that's a serious stone. In New York, 5 carats definitely isn't unheard of (although it's also definitely not the norm), but an extremely clear rock of that size is hard to come by. I tried it on. I snapped a picture. I sent it to boyfriend. I'm 94% sure that I seemed crazy to him as he received the picture in the middle of a late biz dinner in London. The craziest part is that I don't even like emerald cut diamonds, or big solitaires. Now I'm figuring out how I'm going to explain that to him without sounding even crazier.