I don't drink as much as I use to could. -Anna Nicole Smith
1. I Had A Wild Weekend. This weekend my son went to his dad's house, my boyfriend was away on business and vacation with his kid, and I was feeling suddenly free as a 23 year old city dweller with no kids or responsibilities. Obviously, that's not true (I'll be 27 in a couple weeks and I have enough responsibilities to make just about anyone's head spin), because I have the tired eyes of a 74 year old woman that's done nothing but avoid jail time and taxes her whole life. Anyway, Friday night was my friend Britten's wedding at the oh-so-famous-and-fab Plaza Hotel. I RSVP'd solo because I knew boyfriend would be away, and when I was mailing my little card back with a "Bryce Gruber plus 0 guests" I actually wasn't bothered by it at all- it seemed to be in the distant future.
2. I Got My Hair Done By Pedro. I know I've said it before, but Pedro at the Paul Labrecque Salon in NYC totally rocks my world. Aside from me having a total crush on him that'll never pan out, he does a kickass job on my head and I totally appreciate him for that. By the time I left the salon on Friday I had just enough time to rush home and shimmy into my floor-length gown by Decode 1.8.  Somehow I managed to forget that the hook and eye closures on the back of the dress were somewhat complicated, so I had to leave my house with the dress only partially done. That's right. I headed to the wedding with my dress only about 80% on.
3. I Wasn't Naked. By the time I arrived at the hotel for the swanky affair, I saw a couple of people that I had only met briefly before (and ages ago), so you can imagine how perfect of an icebreaker it was to say "excuse me, my dress is mega complicated… do you think you could button me up in the back?" It worked! I found a group of attractive people to cling to for the better part of the evening, and it worked out perfectly that most of them were seated at the same table as me. The only problem was that I realized I'd either have to ask someone to undress me at the end of the wedding before hopping back in a cab to go home (and that's always risky after a night of open bar… I didn't want to give off the single girl vibe or the slutty lesbian vibe), or I'd just have to turn it into a nightgown and pray for it to be magically unfastened by morning.
By the way, my eyes are glowing in a somewhat devilish way because I was eying everyone else's wedding cake slivers. The cake was delish.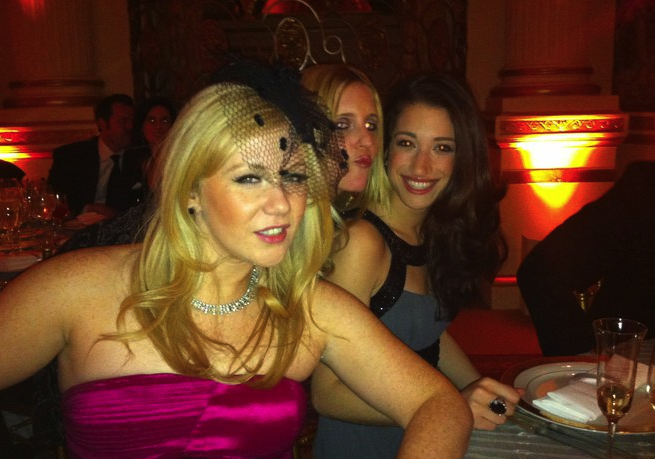 4. My Luck! After nearly 7 hours of flirting with the hot gay rugby player seated next to me, fourteen thousand glasses of oaky wine, a few good dances (with both the bride and groom), fighting off the drunken advances of the best man, an entire filet mignon, 3 pieces of wedding cake, and some seriously sore feet (thanks to 6″ heels), I decided to head home. It's a good thing that Gary The Gay text messaged me with "hey gurl, you wanna hang out?" around the time I was leaving the wedding, because I seriously needed someone to get me out of that dress. He obviously came over in the middle of the night, drank all my fruit-flavored vodka, hit on my male friends via facebook till about 4 AM, and reminisced about our photo shoot from just a couple days prior. It was beautiful, perfect, exhausting, and I got to sleep in legitimate pajamas rather than an evening gown.
5. Everyone Needs A Ring! Hysteria! I realized that my friends were getting married in 2011, which then made me realize that 2012 is mere moments away. Crap. The world is ending then, right?
6. The Rest… of the weekend was even wilder. It was Ashley's birthday the next night, but I'll get to that in a post tomorrow.
7. Congrats! To Britten & Greg. I hope you have the best life together, and I wish you all the love in the world 🙂