I recently tried a dairy free diet and lost 5 pounds in the first week.
I know what you're thinking "but cheese is delicious." You're right. Cheese IS delicious, and parting with the longest lover I've ever had wasn't easy– I had cheese and ice cream before I had my children, my husband, or even the ability to read and write. Trying any level of dairy free diet was by no means an easy task for the first few days, but I eased into it and now I'm cruising on autopilot.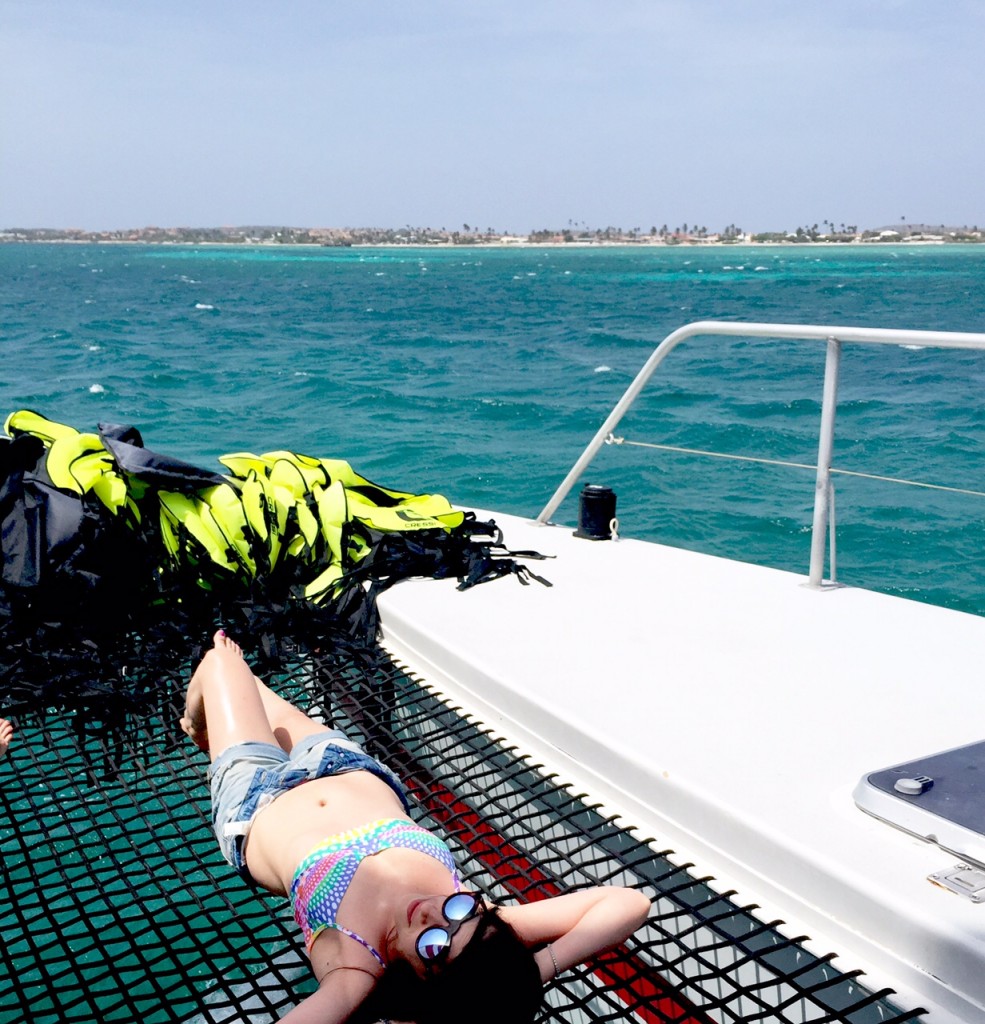 This is me on a boat, NOT having ice cream.
But let's back up– how did a self-confessed dairy addict like myself decide to go cold turkey? Well, I heard about a sort of homeopathic full body scan at an herbalist in NYC called The Organic Pharmacy. I wasn't totally sure what to expect (definitely didn't expect to be talking about my cheese intake), but I was confused about why my body, which bounced back easily after babies 1 and 2, just never fully let go of the bloat and puffiness after baby number 3. I should mention that baby 3 is now 18 months old, and that's long enough for a normal 31 year old woman like myself to recover physically.
The lovely woman who assessed me, Sheila Kumar (LCHE, MARH, RHom) simultaneously practices in NY and London, and sees top level clients looking for lifestyle tweaks and changes to get them back to feeling their best.
"The testing system we use is called an Electro Interstitial Scan (EIS). The EIS measures the resistance of electric current through interstitial fluid, i.e. between the body's cells. This is done by connecting the client's forehead, palms and feet with electrodes and metal plates to a computer that then provides a thorough assessment of organ function, toxicity levels, vitamin and mineral deficiencies, hormone imbalance, immune function, body composition, oxygenation and stress levels. The homeopath then does a full consultation with the client, and considers the recommendations of the EIS, and then suggests suitable supplements, herbs and homeopathy to bring the client back to a state of vitality."
It seems a little crazy, and quackish if you asked me before the test, but within minutes Sheila's machine was showing me a color-sensitive map of my body, with glowing areas showing the trauma I had from a recent car accident, the exact spot where I get my most frequent headaches, and even the weird place in my lower abdomen that always gets sharp pains and a weird bloated feeling, even though I never, ever tell anyone about it. Well, now I do.
I started to pay closer attention, because whether or not my general doctor would use this device no longer mattered– the machine knew me just as well as I knew myself, but possibly better, and that was worth paying attention to.
"The most common condition I see with clients is stress. This can manifest or be associated with adrenal fatigue, hormonal imbalance (especially thyroid hormones or insulin); cortisol imbalance (if this is too high, an individual may be hyper-functioning; however, if it is too low, this may manifest as lack of energy); dopamine and serotonin imbalance (which manifest as mood swings, low energy, and depression)."
In my case, I was low on a couple of these things and balanced on the rest– but a dairy allergy popped right up. And a banana allergy, who knew?
"Oh, look at that, you're allergic to dairy… and bah-nah-nahs," Sheila quipped in a cheery British accent.
What? Dairy? My one true love? And bananas, my go-to easy breakfast? 
"Have you ever had a full allergy scan or test at your doctor?"
No, I hadn't. I never knew this. I was basically functioning OK. Sure, some days were less comfortable than others or I'd get headaches or occasionally rumbly belly issues– but, nothing so serious that I couldn't just keep going about my day. But it made sense. My normal breakfast was something dairy-laden and a banana, and then I'd enjoy a free helping of bloat throughout the day.
Sheila suggested that I try cutting dairy and bananas out for just a few days to see if I noticed a difference, after all, what did I have to lose? She loaded me up with the Organic Pharmacy 10 Day Detox System (a series of capsules to cleanse and restore the digestive tract), and sent me on my way.
Within the first 48 hours I lost 3 pounds. Seriously, 3 pounds and that weird belly pooch thing that happens when you're bloated– just gone in 2 days. I kept going with my dairy and banana free lifestyle, not cutting back on calories at all. In fact, I might've been eating too much other stuff, but I was good about sticking to the non-dairy element of my day. I was supplementing my morning banana with berries, peaches, and apples. Within a week I was down 5 pounds, and not to be too personal, but all forms of bathroom habits improved dramatically.
READ MORE: 9 Health Benefits of Falafel, The Vegan Food Champ
It's now two weeks later, and although the weight loss has slowed down (I'm at a total of 6 pounds lost in 2 weeks), my body feels like it's running a million times smoother, I'm less bloated, and even less irritable. It's been weird to be the only one dairy and banana free in my house of 5 people, but, I've managed to make subtle changes like using way more avocado instead of cheese on sandwiches, eating more nuts and and hearty foods like falafel and bean salads, and getting more emotionally invested in my sushi habit.
While I doubt that everyone out there has the same need for a dairy free diet, I think trying the EIS test at The Organic Pharmacy is a totally worthwhile experience if you live in/near New York. Who knows? Maybe you're bloated from onions or tomatoes or some other seemingly normal part of your diet that your body just sort of hates processing for you.
The test isn't covered by insurance, but is relatively affordable and can be completed in under 2 hours. It is available at a variety of store and medical locations around the US and other countries, though. Here is the list of locations.