Time goes by, and whatever Madonna may look like, we're not getting younger. One of the best ways to stay sane in the whole process of aging is to keep your body healthy, and this starts with nutrition. 'Inner health for outer beauty is not a trend, it's a necessity', Functionalab posted in its Beauty Revolution Manifesto. So true.
We'd like to encourage you to take 4 minutes of your time to complete Functionalab's Personalized Nutrition Questionnaire. Not only will it allow you to reflect on your habits – good and bad – it might just give you the little boost you need to give your lifestyle a functional twist. Imagine how good you could feel if you actually dedicated to it.
By sharing with us (in the comment section of this post) the Beauty Nutrition Program # you are assigned and maybe – why not – some thoughts!, you become be eligible to win one of 20 Beauty Tonics we are raffling to our readers! Tweeps can also enter by replying @functionalab using the hashtag #beautynutrition.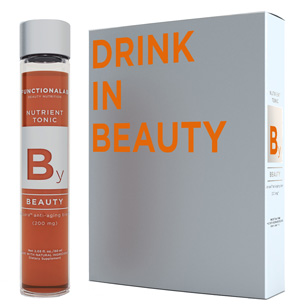 The Functionalab beauty tonic is made of Sensara, a standardized botanical extract that helps fight the effects of aging by protecting against free radical damage to cells. It's packaged in a compact 60 ml format. The tonic tastes like berries but it's low cal, low sugar (and it'll look good in your fridge) 🙂
Winners will be selected randomly! Good luck! 🙂