I don't know if stripping is considered a part of the sex industry, but I know enough strippers to know that it is a sexy job, and taking your clothes off for money makes it pretty easy to get laid. Thus, if you need sex tips, there are definitely worse places to get them than from a stripper.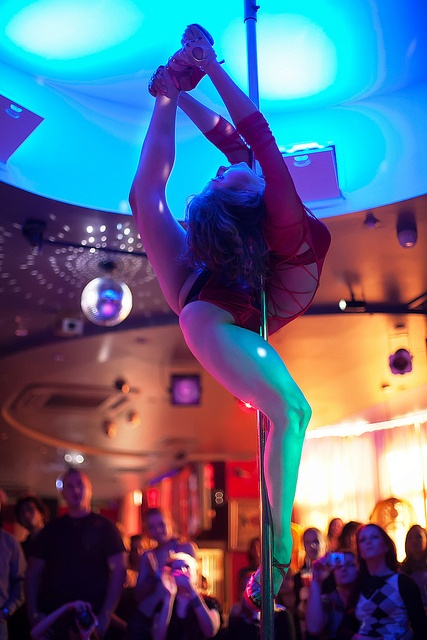 Transactional sex is still good sex: It doesn't matter if you are doing it for cold, hard cash, or so your man will stop peeing all over the bathroom walls. If you are having sex for a reason, its transactional sex. Sometimes, exchanging sex for gifts or favors can spice up a relationship though, as long as it doesn't give your man carte blanche to go crazy on your b-hole.
It's all about the tease: The longer you are in a relationship the more routine the sex gets, that's just science. If you have noticed you go straight from dinner to missionary to snoring, try switching it up and making the anticipation last a little longer. It never hurts to make him want it.
Fake names will save you from fake orgasms: If your love life is getting boring, try adopting a fake moniker. If you don't want your man to actually go out and sleep with some skank named Candy or Bambi, give him the fantasy by changing your name for the night.
Don't be afraid of a good wig: Expanding on the name change, throwing on a wig will change up your appearance without any kind of commitment. I know you might immediately think that if your man wants you to wear a wig, he wants to sleep with someone else, but don't forget that if you put on a disguise you get to be someone else, too. Maybe your alter ego is willing to do things in the bedroom you have always been scared to try.
The higher the heel, the harder the erection: Ladies, we don't wear heels because they are comfortable, that's science too. We wear them because of the way they make our legs look. It follows that if women wear heels to look sexy, then they should wear them during sex, too. You know those super-high sexy heels that you find it impossible to walk in? Did you ever think that maybe they weren't meant for walking?
[
via
]