I think we're all excited about a product when we see the Good Housekeeping seal of approval.  It generally indicates a great, reliable product.  You can find it on items including vacuums and kids sneakers.  And soon you'll be able to get it on the large silicone dildo you love so dearly.  Sort of.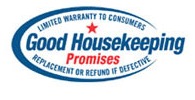 The monthly magazine was long known for it's stick-up-the-butt housewife readership (old ladies) that lacked any real interest in orgasms.  Well, since 2003 (when they started to admit that women like sex), they've been doing their best to shed that image in a refined, tasteful way.  Much like us here at TheLuxurySpot.com…
For its October issue, Good Housekeeping asked a panel of women 30-65 to test out the best-selling vibrators in the UK and to rate them.  All I can think about is the 65 year olds going home to vibe after spending a lovely day at the library with the grandkids.  There were 4 categories for scoring:
ease of use
instructions
noisiness
and satisfaction
The rabbit, the most famous of the bunch, shockingly came in 4th place.  On behalf of the lovely rabbit-loving community, wtf?!  Were these old ladies doing something wrong?  Because the rabbit is the best damn thing on the market.  The bunny was beaten by a warming vibrator, the'Bedside Bullet and the S-shaped Delight.
June Walton, Deputy Editor, Good Housekeeping, said: "Even though 'Sex And The City' has removed the 'guilty' tag from owning a sex toy, and it's widely recognised that many young, single women own vibrators, our survey discovered that they're just as popular among our readers – only 13 per cent of our testers were vibrator virgins."