Still struggling to find an out of this world gift that'll make your man go weak in the knees? Shopping for a dude is definitely no easy feat, but don't worry, we got your back. Whether you've been making out for a few short weeks or are about to change your status to engaged on Facebook, peep these pointers from relationship expert & love architect, Kailen Rosenberg, on what to get your guy at every stage of dating (or you know, just three very important ones!).
"Each gift really depends on your budget along with how quickly and intimately you've connected with one another," explains Kailen. "For some, it can be 'love at first sight' along with a feeling of connection as if you've known each other your entire lives; for others with busy schedules though, a small handful of 'great' dates can have you heading toward that 'really starting to like him stage'… but here goes…"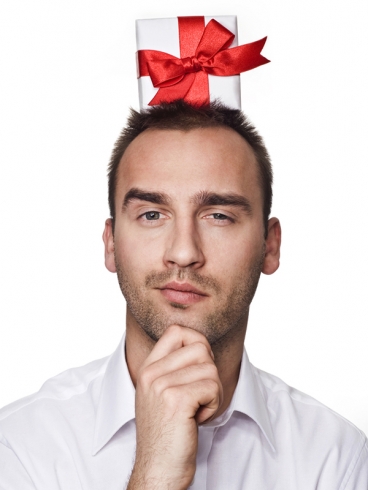 One month of dating: If you've had a chance to get to know his taste, ether through the wardrobe you've seen him in or things he's pointed out appreciating on others (which shows you're interested already and paying attention to his personal likes, BTW) a lovely, well made scarf that is unique to him and his personality, along with a kind, warm, even perhaps humorous card sharing a 'bit' of your feelings at this point in the relationship is a good idea.
Six months of dating (The odd point/mid ground where you are each deciding if this could be 'forever' or for a few more months at best): So this gift needs to be warm, intimate but not overly serious. If you truly like him and you've spent some nice time together as a new couple, send a tasteful, not inexpensive but not overly expensive, holiday floral arrangement (yes, even men appreciate receiving flowers) to his office or home. It's personal, fun, states good and festive energy, plus it's thoughtful.
In addition, as you've now hopefully gotten to know him well over the past several months, give a gift that shows class, no matter what your budget. Something that shows you care enough to 'notice' or pay attention to his needs/desires, what he enjoys and what he might need around his home or place of work.
Ideas: A leather bound journal and monogrammed pen, a great blender (men are all about necessity for the most part), a beautiful sweater, wonderful, cozy monogrammed towels for his bathroom, a fabulous case/bottle of his favorite wine, tickets with great seats to see his favorite band play along with dinner at his favorite restaurant, a wonderful, sexy new cologne…
One year of dating (Now it should be serious and you should have some idea of who you're actually with and where the relationship is headed): Buy him tickets with great seats to watch his favorite sports team, a romantic dinner and a romantic card sharing that there will be some fun 'sport' action going on when he returns! Or to be the really cool girlfriend, send him with his best buddy and make reservations for them at his favorite restaurant, letting him know you'll be waiting for him when he gets home.
Other ideas: A beautiful watch with a personal inscription inside, a bracelet (if he wears jewelry) or airline tickets to see a great buddy of his he hasn't seen since college.
images via ehow.com & 29secrets.com