Our good friend Lindsay Tigar, author of LoveAddictNYC.com, stopped by our office recently to dish on the topic she knows best- dating. Here are her mega helpful tips on how to bring someone special home for the holidays: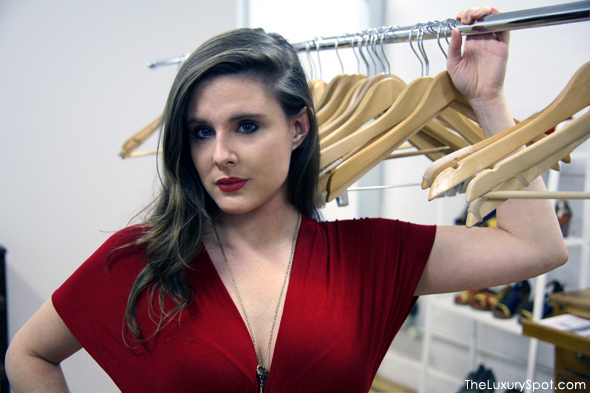 I usually stand out like a jaded New Yorker at Christmas dinner. Though I'm originally from North Carolina, I'm the odd-ball cousin who opted against getting married right after high school or college and starting a family. While I absolutely adore their kids, I'm in no rush to have babes of my own, so while they are sporting matching family sweaters and Sunday-best dresses, I'm in the corner with my date, Mr. Glass of Merlot, wearing a black sweater dress and ankle boots.
My parents don't pressure my ovaries or my ideas, but the greatest gift I gave my extended family one year was taking home a boy for the holidays. Regardless of my successful blog or the way I moved to Manhattan merely with determination, pennies and Lean Cuisines, somehow the fact that I landed a city-slicker was far more impressive.
My boyfriend at the time was many wonderful things (or I wouldn't have dated him), but one quality he didn't have was the skill of organization. I'm not the cleanest person in the world either, but when it comes to preparing to go away or getting my affairs in order before leaving home for a week, I start to think ahead…well, ahead. He, on the other hand, did not.
The night before we left, I had already had my suitcase packed for two days, an idea of what time we had to get up to be there in enough time, and had our itinerary, including our rental car information and flight schedule printed. I had packed magazines I had been dying to read (and one for him) and came up with a list of things I wanted to show him. The boyfriend, on the other hand, didn't start packing until right 12 hours before departure, and planned to stop by a friend's birthday party when we had a 6 a.m. flight the next day, while I was finishing up laundry so he would have everything he needs.
Needless to say, there was a little tension.
A big part of a relationship is compromise and accepting someone's idiosyncrasies – especially when you're about to introduce them to your parents and travel together. I probably packed too many shoes and I got a little flustered when he slowed me down to smell the Southern roses. But he took me for me, as I accepted his ridiculously-annoying traits in stride, too. The trip wasn't perfect and it wasn't supposed to be because it was life and it was a real relationship, not a silver-screen, tinsel-town version of home-for-the-holidays. You can't escape reality, even if you go on vacation.
To survive the holidays with your less-than-perfect man, try these five tested-and-terribly-true tips:
Don't Expect Miracles
Sure, it's the season where we believe in all sorts of impossible things, but your trip to meet the folks may not be worthy of a Hallmark greeting and that's okay. You're bringing the man you love to the place you grew up into the lady you are today – into the woman he loves. It may be really awkward at first (like when your dad asks your boyfriend from Queens to play corn hole with him in the backyard), but it'll get easier as the days pass. Your guy will most likely be on his best behavior, but encourage him to be himself (minus the continuous ball-scratching).
Don't Overwhelm the "We"
Your favorite high school teacher or that woman at the drugstore who remembers your name, even to this day, would probably love to meet your amazing man, but do they need to? With all the new faces, handshaking, dinners and small talk, your guy will most likely be exhausted. While you're proud of your couple status, take it easy and only introduce him to the special people in your life. If he's special enough, he'll be back again to meet the rest of the crew and the friends-of-the-friends-of-the-friends of the crew, anyway.
Don't Forget About Sex
I'm guessing you're sexually active with your boyfriend if you're taking this huge step (if not, I apologize for my crudeness in advance), so it's important to come up with a passion plan before leaving. Will your parents care if you get down in their house? Are you sleeping in the same room? Can you refer to your 17-year-old horny self and find a place to sneak in the dirty? Can you take a night away to snuggle-and-then-some, someplace else? There's a lot of added pressure when meeting the family and one easy way to break the tension is with titillating activities.
Don't Forget To Stop and Listen
Traveling home for the holidays is often a whirlwind, going from one place to the other, explaining everything, introducing everyone and still finding time to relax together – but it's important to take a minute to breathe and see how your beau interacts with your loved ones. While your parents may not be the end-all-be-all judge of character in your eyes, seeing how your guy interacts in the home setting can be a tall-tell sign of how he'd be if you created a home together. If you have nieces or nephews, see how he is with babies too. (Plus guys are just adorable with kids period.)
Don't Make it Everything
Your first big trip or your first meeting-the-folks experience can be a turning point for a relationship that turns it from kinda-serious to I'm-severely-in-love-with-you, but it's not everything. Being away from your city can put a different perspective on your relationship, but remember, after a few days, you'll be right back in the swing of your everyday life that doesn't involve mom's cooking and dad's knuckle sandwiches. Enjoy the time away, don't stress about your guy (and give him a little love), take mental notes here-and-there, and come home five pounds heavier, without a care. Why? Because your man has the same holiday-pooch and loves you anyway for it.