While I'm not much of an avocado fan (guacamole is fine, OK? It's just the texture of straight up avocado that gives me the heebie-jeebies), the combination of avocados in a wrap with other fixins makes for a great lunch.  In an Asian, light yet filling, fun lunch in the summer at your pad with your friends kind of way while you drink margaritas and dance to reggae in bikinis kind of way.  But now in the winter, they're still delish enough to snack on – and super easy to pre-make to bring to the office.  Cut tons of the matchstick veggies in advance & keep them sealed air-tight… you'll keep using them for bloody mary garnishes, snacking and doomed attempts at make-your-own sushi.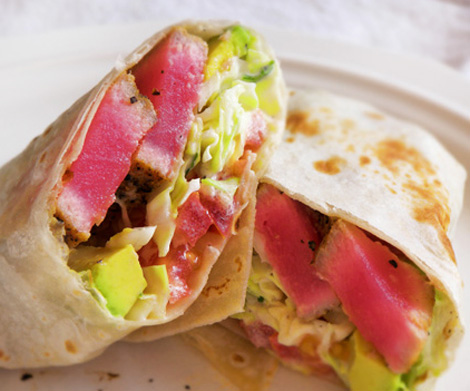 TIP: For extra crunch & a vitamin C boost – add thinly sliced orange.
Ingredients
FOR THE TUNA WRAPS:
1 teaspoon mayonnaise
1/2 teaspoon wasabi paste
1-2 drops sesame oil
1 soft flour tortilla wrap
1/2 carrot, peeled and cut into matchsticks
1/4 cucumber, halved lengthways, deseeded and cut into matchsticks
1 x 75g tuna, sliced into 3mm x 2cm rectangles
FOR THE CRAB AND AVOCADO WRAPS:
70g white crab meat
1 teaspoon mayonnaise
1/2 teaspoon wasabi paste
1-2 drops sesame oil
1/2 avocado
4 x 15ml tablespoons finely shredded iceberg lettuce
Squeeze of lemon juice
1 soft flour tortilla wrap
Method
For the Tuna Wraps: Whisk together the mayonnaise, wasabi and sesame oil in a small bowl, and paint the tortilla wrap with this mixture on one side.
Arrange a row of carrot sticks horizontally 2-3cm up from the bottom of the wrap in front of you.
Arrange the cucumber on top of the carrot in the same way, or as best as you can – it may slip down a little.
Top with the slices of tuna, also laid horizontally as this makes it easy to wrap up.
Roll up the wrap as tightly as you can, starting from the bottom. You want to end up with a shape resembling a fat Cuban cigar.
Cut across the rolled wrap diagonally to make 3 pieces.
For the Crab and Avocado Wraps: Put the crab meat into a bowl, add the mayonnaise, wasabi paste and oil, and stir to mix.
Lay the wrap in front of you and put the crab meat in a horizontal line 2-3cm up from the bottom of the wrap.
Take the avocado half, still with skin on, and scoop out the flesh in half-teaspoonful curls, laying these on top of the line of crab meat.
Sprinkle the lettuce in a neat line on top of the avocado, and then spritz with the lemon juice.
Roll up tightly from the bottom, to form a fat cigar shape and then slice on an angle into three.
recipe via nigella.com