In honor of Valentine's Day coming up, I thought I would spend some time focusing on the great romances of our time. I'm sorry if that headline came off as breaking news, but I really couldn't think of any other way to say it.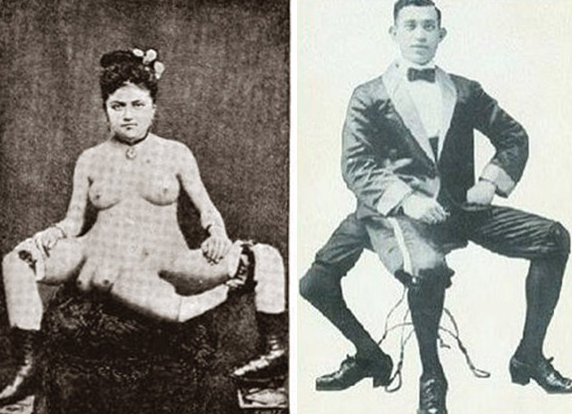 Blanche Dumas (ironically, my drag name) was born in the 1800s. She had three legs, four tits, and two vaginas, and made a living as a high class hooker (nicknamed the three-legged courtesan, ironically my fantasy football moniker). As you can imagine, she was very popular. She then heard about Juan Baptista do Santos, a man born with three legs and two penises, and obviously arranged to meet him.
Both of them suffered from Tripedalism (three legs), and he suffered from Diphallia (two dicks). If you asked me, these two are both a match made in heaven, and a great example of how society labels people as deformed, even when the issue has positive repercussions. I truly believe that you can never have too many penises or vaginas, especially on Valentine's Day when a lot of people around the world don't even have access to one.
The moral of this story though, is that no matter what your issue is, there is somebody out there for you. Remember that, as Valentine's approaches and the Brooklyn Bridge outer rail starts to look like a good place to eat a sandwich.
[
via
]