A monumental decision has recently been reached by the Supreme Court that allows full federal rights to gays that get married in the states where same-sex marriage is legal. Legally speaking, that means we have reached a milestone in our fight for equal rights. In layman's terms, that means you are going to have a lot more weddings to attend.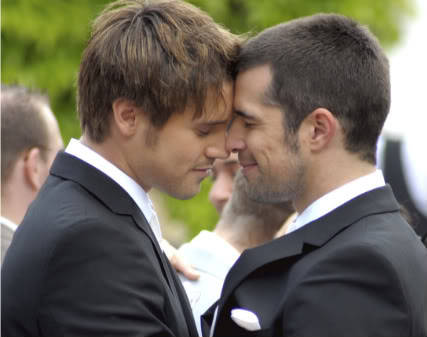 My personal reaction to this news was mixed. I was excited that I could potentially marry the man of my dreams and then take half of his assets in a messy divorce. I was also scared that people would propose to me, and I would have to say no. More than anything I was proud to be living in such amazing times of political change. For you ladies, it means you now have some competition for throwing an amazing wedding. Here are five reasons you need to attend a gay wedding, immediately.
Bridesmaid Dresses- No gay man would ever put you in something that looks like it crept out of Molly Ringwald's closet in the 80's (except of course me, because I like to torture my friends). You can bet your bottom best friend that the bridesmaid's dresses will be tasteful, wearable, and low cut enough to get you some attention from the only straight guy in attendance.
Guest Gifts- Gays, above all, are givers. We appreciate when people around us have a good time, (which is why I sometimes drug my friends), and love to entertain. Any guest gift you receive from a gay wedding will probably retail upon resale for upwards of $50. Attend enough gay weddings and you can buy that new vibrator you have been eyeing, from the Forever Alone collection.
Entertainment- I know you probably think I am going to say that every gay wedding is going to include a drag show, but that is too stereotypical. Besides, I doubt any gay bride is going to want any divas around to take away the spotlight. If gays have an eye for anything though, its entertainment, so expect either a classy ensemble of semi-famous performers or a ridiculous shitshow of trannies and circus performers.
Gossip- If you think hooking up at a straight wedding is fodder for gossip, you should let the gays have a go at it. There is nobody more competitive than a single gay man, so if you are planning to bring your straight boyfriend to a gay wedding, plant your hand firmly on his crotch, and keep it there the entire time.
Bridezilla Meltdowns- On their wedding day, female brides have been known to go a little whacko, making insane demands of the people around them, and treating everyone poorly. Imagine a gay bride, whose personality is made up of finding creative ways to sarcastically make fun of their friends. Then, add in 3 or 4 drama queens to stoke the fire. A gay bridezilla in the middle of a meltdown would be worth the $100 wedding gift, and spending 6 hours squeezed into a pair of extra-small spanx.
[
via
]