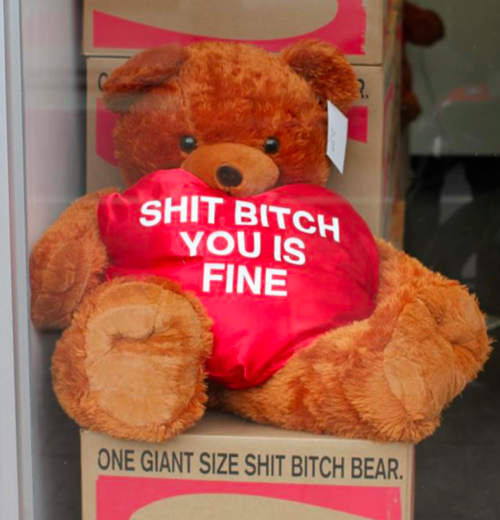 I have always been sort of "meh" about Valentines day. There are a few highlights of my past V-days, such as the time I went rock climbing along the Potomac, and the other time I had sex seven times with my boyfriend at his parent's house. Typically though, the whole rigamarole of chocolate, flowers, candies, dinner dates, and ax-wielding stalker ex-boyfriends is super corny.
That is why when I saw this "giant size shit bitch bear" teddy bear I not only decided to share it, but I tried to track one down. Valentines Day is the corniest of all holidays, and gifts like this are just one way to make it a little more tolerable.
It's also a great gift for your secret crush. If they don't laugh at this they aren't your soulmate. That is just science.
And if you're really into inappropriate stuffed animals, we have a ton more to suit your fancy. Click here.