** UPDATE!
Now you can find Lyric Culture Jewelry online at LyricCulture.com
Lyric Culture, ( Bryce is a huge fan of their stuff) is branching in to accessories. I'm totally OK with it.
Their innovative idea to license & print iconic rock lyrics on to their pieces truly simplifies life. NO more google searches to figure out your newest Facebook status!
These scarves? To die for. Made out of super soft slub-terry, they're wearable as a winter-warmth mechanism while being light enough to wear throughout the spring to accent event the simplest of outfits.
Styles include lyrics from I Can't Get No Satisfaction & Knockin' On Heaven's Door ( pictured below) and many others.
Available at LyricCulture.com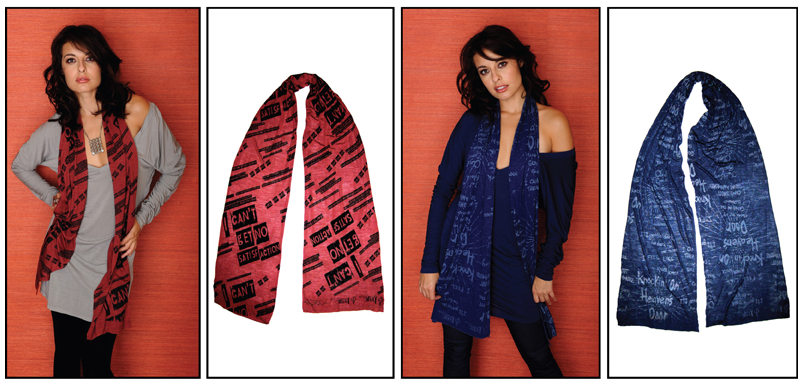 The bangle bracelets, made out of gold & leather? I can't get enough.  Your choice of the pieces shown below. They're all good to start conversation & keep your audience wondering how they fell in to such cool company.
Keep your eye out for these…
Coming SOON to Fred Segal &Â  MaxAndChloe.com