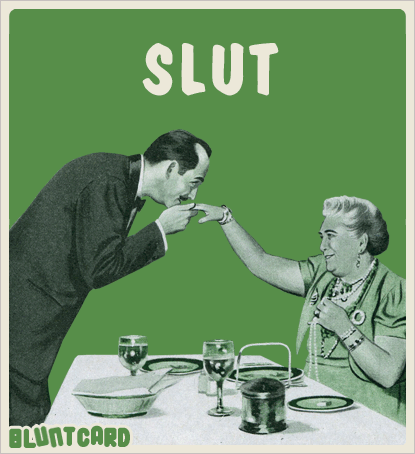 I don't believe in the word slut. I have been called that word many times in my past, even before I had sex for the first time. I have used the word (as we gays do) in lighthearted friendship and glee. I have called myself a slut from time to time- just to signify the fact that yes, I love having sex and have had it with my share of people.
It is a funny word- but like so many others it can be used to hurt, demean, and bring people down. Girls are especially guilty of this. When their own inexperience or insecurity about sex surfaces they often use this word to demean other girls who threaten them. They say this word to their boyfriends, to keep them from straying into the arms of their pretty friends. They say this word about girls they don't know – because they are afraid of competition. They think this word in their heads about themselves, and use it to convince them not to act on certain impulses even when they desperately want to.
But what is a slut? It is a person who likes to have sex, and does so with multiple partners. Raise your hand if, in your life (and your college years) you didn't have sex with at least 2 (2= multiple) people. Raise your hand if you don't like sex.
When you get to the bottom of it, the issue of the word slut comes down to a matter of opinion. There is no clear definition of the word slut, so when you call someone that you are really only expressing your subjective opinion. More often than not, calling someone a slut says more about you than it does about them.
So the next time you feel threatened by someone's sexuality and have the urge to say this word, think about all the times you ended up covered in puke in a strangers bed. Then pat yourself on the back, crack a smile and say to yourself:
"Good job, slut."
[
via
]