New Orleans – City of Eternal Party
I just got back from a recent trip to the 'Big Easy,' aka New Orleans, Louisiana. A group of friends and I went down for a big party revered around the gay globe as "Southern Decadence," which sounds much classier than what it turned out to be, which was less decadent, and more gay Mardi Gras. But beyond the half naked tranny directing traffic, the blaring music coming from the clubs that literally never close, and the countless drinks-to-go (available wherever drinks were served), 'Nawlins' as the locals pronounce their beloved city is truly a gem to behold.
As I stumbled out to pick up hangover supplies (Thai food, Advil, bottled water, and more Advil) I had the opportunity to check out the French Quarter. I'm not sure now if it was because I was still drunk, or if the buildings really looked that amazing, but I was so taken aback by the elaborate French-style architecture, with its intricately detailed iron balconies overflowing for the most beautiful tropical plants and lavish patio furniture. In the case of New Orleans you can judge a book by its cover, and this city has some stories to tell!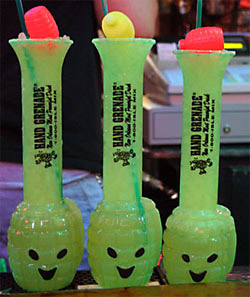 The New Orleans Hand Grenade Cocktail:
Gin, Grain Alcohol, Midori Melon Liqueur, Rum, and Vodka
If you don't want to hear a story, maybe you want to hear what your future holds in store – at just about every four streets there is a fortune teller, mystique, palm reader, psychic, or some sort of spiritually connected con artist, oh sorry, I mean homeless person with some freaky cards and an ability to use their turrets to their monetary benefit. If you're going to New Orleans, here is your fortune: you will get plastered, starting from the first sip of that Grenade, and you won't sober up till after you land safely back home – even if you don't remember how you got there.
You will, however, remember the music. The world is a stage, and anybody who can play an instrument in NOLA – plays. The air is filled with more saxophone than a Kenny G. album, and your soul would be full of blues if there were any room after all the booze. Speaking of which, you eventually have to soak up those 20 shots from the night before with some grub.
Whether you elect to give into your guilty pleasures and gorge all-American style at Krystal burger (late night favorite) or dine classy at The Ruby Slipper Breakfast Club style (our fave brunching spot – try the cheesy grits!), NOLA serves up the best Creole Cajun cuisine, seafood, and even the original Bubba Gump shrimp this side of the Mississippi – yum!
No matter how much you eat, NOLA will leave you craving for more, and you'll definitely want to go back for seconds to the city of eternal party.
GO SAINTS!