With Mother's Day fast approaching, why not show Mom some love and appreciation by winning her an Amanda Pearl Lippy Case? This lipstick case will give her a fashionable way to store her lipstick, or if you'reon top of your game and already got a gift for Mom, go ahead – win this for yourself! You'll never lose another one of your favorite lipsticks or glosses again. Featuring brocade outer material, a moire lining, and an interior mirror for perfect application every time, you'll never want to go without it. Not a lipstick gal? Keep your evening earrings safe for after work drinks, or travel.  Celeb fans of Amanda Pearl's Collections include Emma Stone, Freida Pinto, and Melissa Egan.
5 lucky winners will win an Amanda Pearl Lippy Case – worth $38 each on AmandaPearl.com.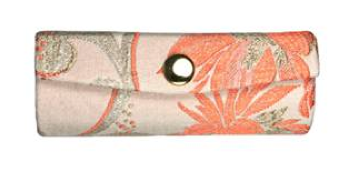 FOR OFFICIAL ENTRY – [Contest ends May 13, 2010 — Open to U.S. Residents Only]
Comment! Which lipstick trend is your fave? Are you a fan of the classic red? Or maybe you prefer a bolder look with black or neon lips?
Extra Credit: