FYI: experts swear by witch hazel for dandruff relief
If it sounds too good to be true, buckle your seatbelt, because this ride is about to take the fast track to wonderful news. That favorite old skincare standby, witch hazel, is actually a scalp wonderdrug. "Witch hazel contains tannins," tells Dr. Debra Jaliman, a board-certified NYC dermatologist of how why witch hazel for dandruff relief is a common home remedy. "Antimicrobial properties of tannins fight against bacterial infections."
In fact, this study found that witch hazel is one of the best inexpensive skin inflammation fighting ingredients, and that includes the skin on your scalp.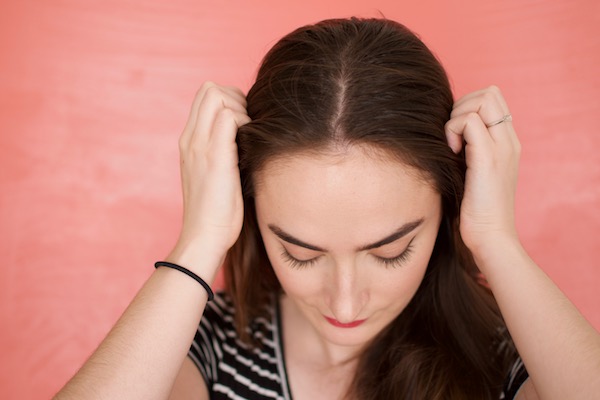 "Witch hazel is a great way to remove excess skin and oil from your scalp before shampooing," says Jaliman, who is also the author of Skin Rules: Trade Secrets from a Top New York Dermatologist.  "It helps inhibit bacteria growth which is what dandruff normally is. It also reduces oil and inflammation."
Those who suffer from chronic dandruff will definitely want to keep a bottle or two on hand, and even those just looking to boost their scalp health and increase scalp circulation will benefit from massaging some witch hazel on from time to time.
How to use witch hazel for dandruff relief
Dr. Jaliman suggests applying witch hazel for dandruff relief with a cotton ball or just using your fingers to rub it in before shampooing. "This can help with an itchy, flaky, crusty scalp."
Try using an organic witch hazel, like this one by Zongle.
"This is also good if your scalp is dry and sensitive," she adds, and suggests a more diluted version for those worried about the straight-up version being too harsh on their scalps.
Products like Grow Girl Hair Regrowth Scalp Detox have witch hazel and apple cider vinegar to help strengthen scalp health and detox fungal issues like dandruff. You simply pour it over clean, damp hair and let it soak into your scalp and tresses for about five minutes (like a deep conditioner), and then rinse out, condition, and style as you normally would.
Witch hazel is also a popular ingredient in some of the best Korean serums and new face masks that have debuted recently, thanks mostly to it's natural anti-inflammatory properties.
You can also try post-shampoo methods like this Unwash Balancing Hair Serum with witch hazel and tee tree oil, which can be applied directly to the scalp after shampooing and left on as a scalp conditioning treatment.
"Witch hazel is a natural astringent," says Jaliman. "It can help reduce inflammation and decrease oil and redness — making it a great choice for those with oil-related concerns."
Love this article? For more beauty, style, travel, and trending topics check out The Luxury Spot on Facebook. Like us and we'll love you back!